By the Sea
When you think Tuscany, the sea, beaches, rosé wine and fresh fish don't necessarily come to mind—yet they're all there. Our tour begins at Ammiraglia Estate, in Magliano. Its vineyards, in the Maremma region, sit about 15 kilometres from the Tyrrhenian Sea, which is visible in the distance. We're seduced by the striking coastal village of Castiglione della Pescaia. It's the perfect place to discover Tuscany off the beaten path.
This part of Tuscany isn't overrun with tourists, but its wines are quickly becoming popular. The first vines were planted in 2001, so this vineyard is young, but it has a lot of potential. Hot summer days and cooler evenings softened by seaside breezes have created the ideal microclimate for growing white varietals such as Vermentino, a grape that makes for refreshing wines with a touch of minerality. We decide to explore the countryside on bicycles—and upon our return, a feast of fish, seafood and shellfish awaits us.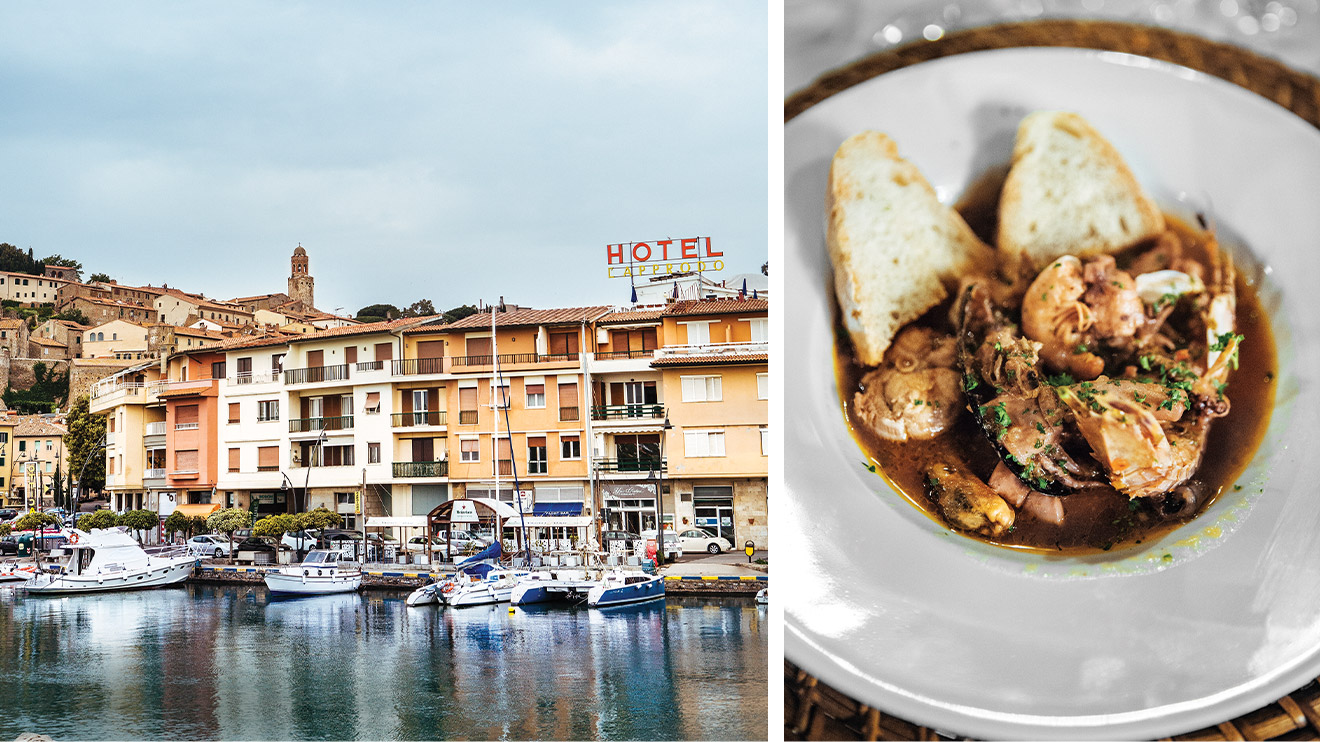 Through the Grapevines
Our second visit is to the CastelGiocondo Estate in Montalcino, near Siena. There, we meet my friend, winemaker Stefano Benini, who represents the 30th generation of his family involved in the winemaking business. The family acquired the estate in 1988, and this is where the first Brunello di Montalcino wines were produced, made with 100% Sangiovese grapes.
A magnificent old stone castle sits on the estate. Immediately I start dreaming about buying the place and turning it into a destination for food lovers! Luckily, a glass of wine, some pici—thick, hand-rolled spaghetti drenched in ragù or garlic tomato sauce—followed by beef stewed in red wine, and I forget all about my plans—for now. I adore Tuscan cuisine: rustic and unfussy, with simple yet bold flavours.
Castles in the Sky
Next stop: Castello di Pomino! This vineyard is located in the Rùfina region of the Chianti Valley. We get acquainted with this little slice of paradise while sipping some bubbly. "Chianti isn't the only thing we make in Chianti," says Francesca, the winemaker who runs the estate. The prestigious Pomino property was given to the family in 1863 on the day that Leonia degli Albizi married Angiolo Frescobaldi.
Several vineyards in Tuscany offer lodging (called agriturismo in these parts), and Pomino has followed suit. The rooms for rent here are boutique-hotel-style, with an emphasis on rustic chic—it's as if you were being hosted by a family of Italian aristocrats. Dinner is served around a communal table, and the daily menu follows a "zero kilometre" philosophy: Everything is either produced locally or made in-house. We dine on excellent gnocchi bathed in tomato sauce, followed by a sublime pork roast.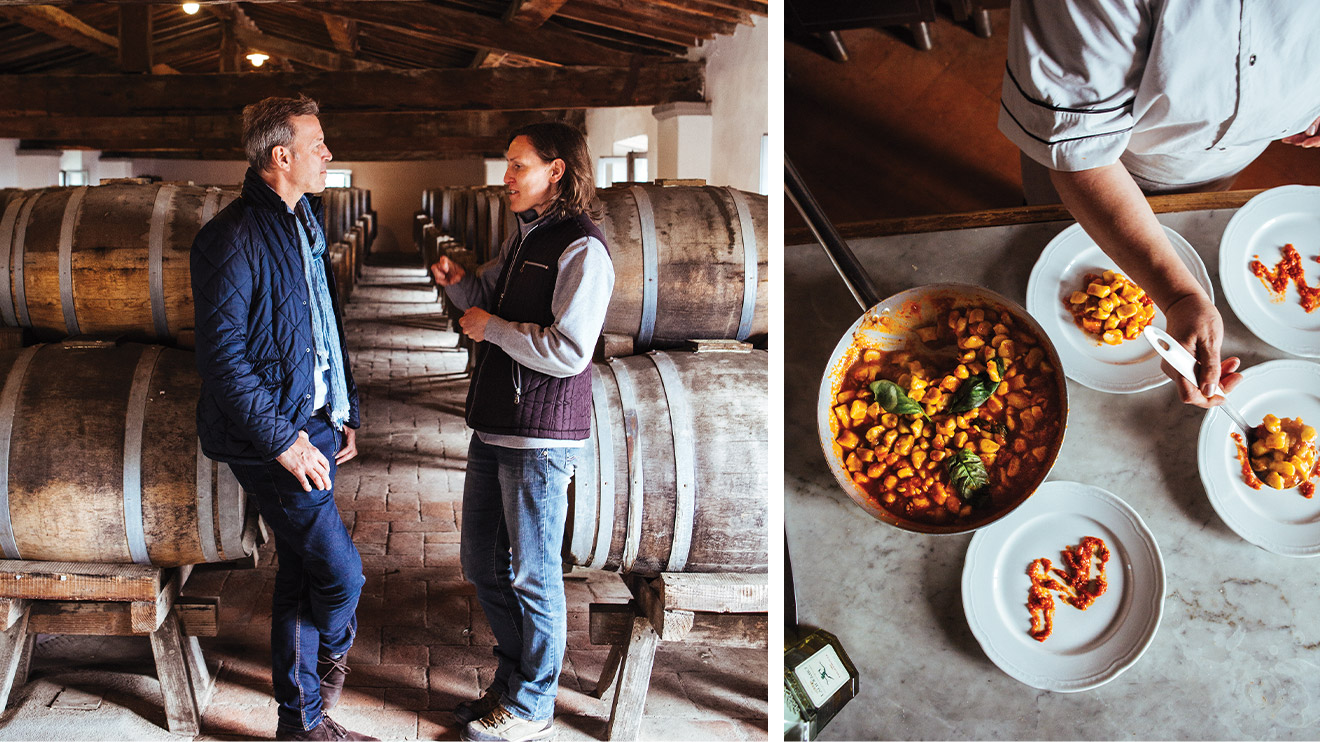 It Takes a Village
As we approach Nipozzano, it feels like we've arrived in a small village. This medieval estate is nestled in the upper reaches of Rùfina, in Pelago. And it's where generations of Frescobaldis have gotten married. With over 300 hectares of vines, Nipozzano's main attraction is, not surprisingly, wine. Sangiovese is the number-one grape, but many other international varietals fall into the so-called "Super Tuscan" category, like Cabernet Sauvignon, Merlot and Syrah. The olives that grow here are also pressed into a peppery-tasting oil sold under the name Laudemio. The eggs laid on the grounds are reputed to be the best around, and when harvest is in full swing, the cooks gather peppers, tomatoes and other vegetables from a garden planted specifically for them.
They also raise Chianina here: white cattle whose tender beef is what makes the bistecca alla fiorentina famous. This regional specialty features T-bone steaks cooked on high heat over a charcoal fire, and served rare with a sprinkling of salt and pepper and a drizzle of olive oil. Some add a squeeze of fresh lemon, or a few sprigs of rosemary. I also learned how to make a very delicate asparagus lasagna in which cooking water from the vegetables is used instead of milk in the white sauce. For dessert, we dig into a peach crumble that knocks us down for the count.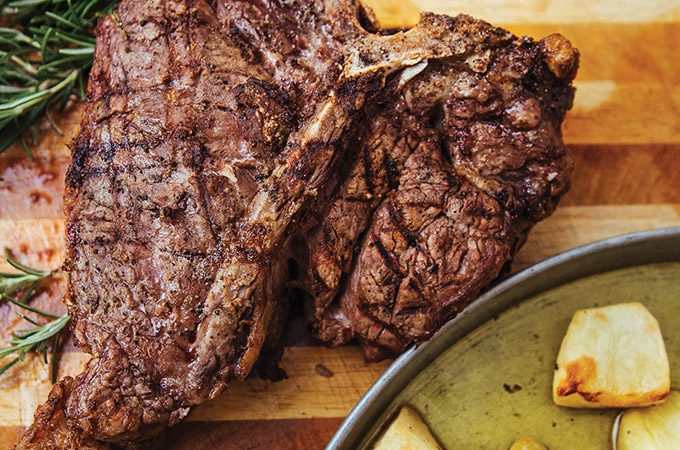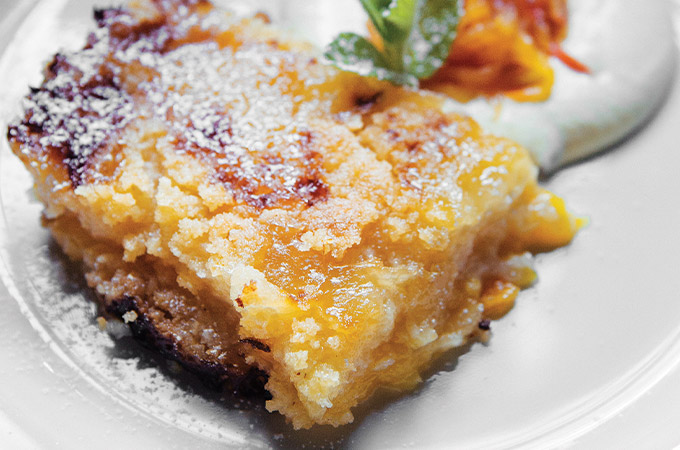 Falling for Florence
It would be impossible to go to Tuscany and not spend some time in Florence, whether to take in the market, the piazzas, the churches, bridges or cafés, or simply stroll the city streets and enjoy a gelato. Beauty and centuries of history are everywhere you look. We stop for a cocktail at Caffè Giacosa—where the Negroni was invented in the 1920s. The Americano (Campari, red vermouth, soda) was the most popular cocktail at the time. Count Camillo Negroni, who was known to like a stiff drink, asked the bartender to make him a cocktail with a bit of a kick. And thus the water in his usual Americano was replaced with gin.
"As I finish my drink, I realize that by the end of this trip, I'll be more convinced than ever that I was Italian in another life."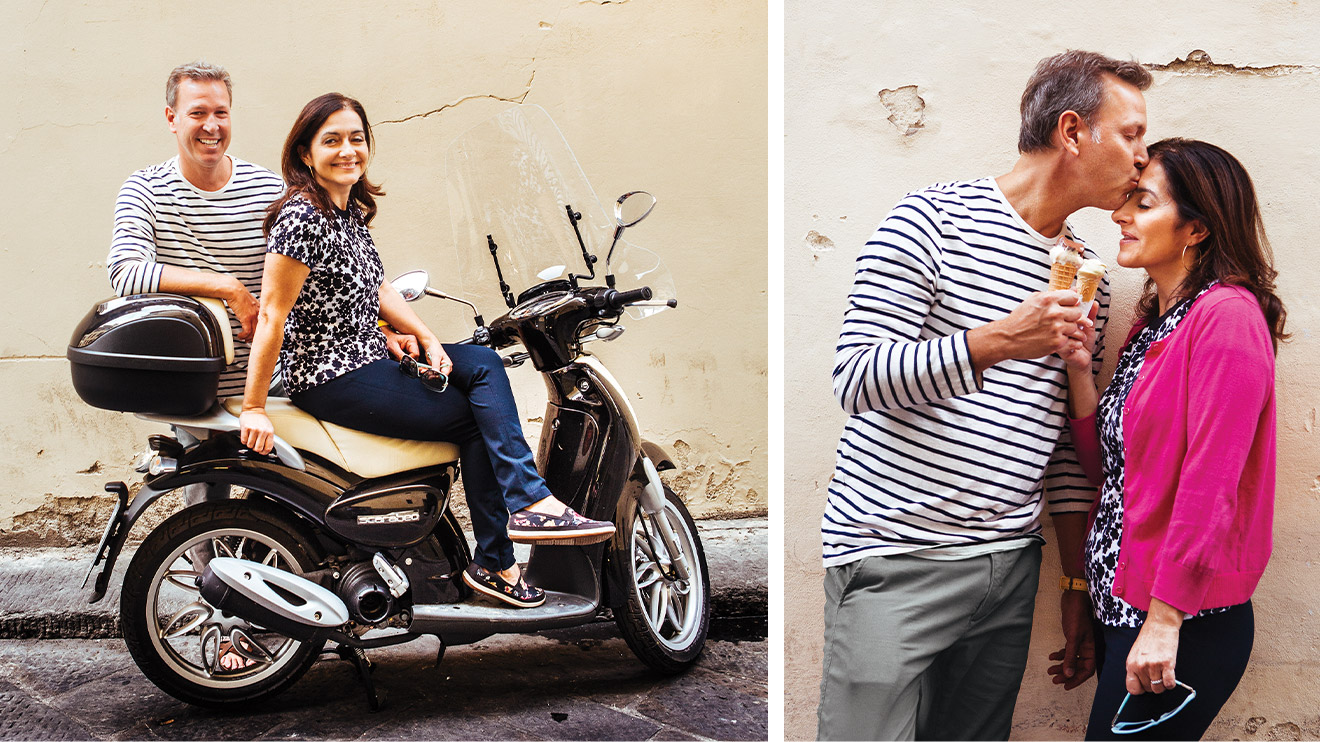 I've included a list of my favourite restaurants and vineyards in Tuscany. Ciao!
PHOTOS: DAVID DE STEFANO