At the end of the day, a turkey is just a big chicken! There's no reason to be intimidated by the poultry's prodigious size. For those who prefer to serve the whole bird, here's a recipe that's hassle-free. To guarantee tender turkey every time, keep this magic trick in mind: Rub with salt and lemon, and let rest in the refrigerator for two days beforehand.
Preparation
Turkey
Place the turkey in a large glass or ceramic dish, breast side up.

Season the turkey skin with half of the salt. Rub the exterior and interior of the turkey with the cut side of the lemon for 2 minutes. Sprinkle with the remaining salt, especially the breast. Cover with plastic wrap and refrigerate for 48 hours.

With the rack in the lower third position, preheat the oven to 350°F (180°C).

In a bowl, combine the spices. Set aside half for the gravy.

In a small pot over medium heat, melt the butter. Add the remaining spice mixture and cook for 30 seconds. Set aside the spiced butter.

Place the turkey in a large roasting pan, breast side up. Pat dry with paper towels. Stuff the turkey with 3 onion halves. Tie the legs together with butcher's twine. Brush the turkey on all sides with the spiced butter. Place the remaining onions around the turkey.

Bake for 1 hour 30 minutes. Add the water to the roasting pan and continue cooking for 1 hour. Brush the turkey with the honey and continue cooking for 30 minutes or until a meat thermometer inserted into the thigh, without touching the bone, reads 180°F (82°C). Set the turkey aside on a large plate and keep warm. Skim and set aside the cooking juices for the gravy.
Gravy
In a large pot over medium heat, brown the garlic in the butter. Add the flour and cook until golden brown, stirring constantly.

Add the broths, bourbon, honey and the reserved spices. Bring to a boil while whisking, and let the gravy reduce until thick. Add the cooking juices. Season with salt and pepper.

Serve the turkey with the gravy. Delicious with the Slow Cooker Pork and Apple Stuffing or Beet, Pomegranate and Red Cabbage Salad.
Note
You can brine either fresh or frozen turkey. When using a frozen turkey, let it thaw in the refrigerator as it brines.
To help you with this recipe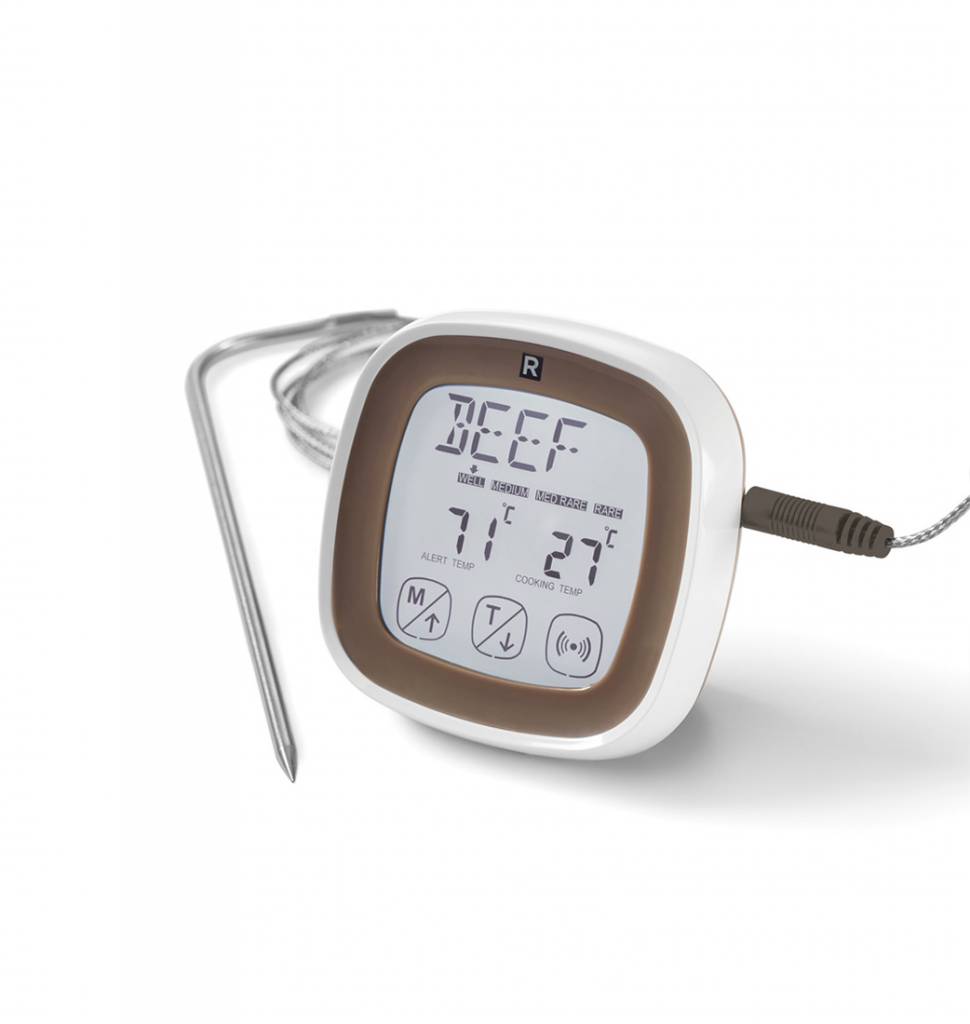 This thermometer is the secret to cooking turkey, chicken or cake to perfection. It can measure temperature directly in the oven thanks to its resistance to high temperatures.
38.99 $
SHOP NOW