Ingredients
Crust
Lemon and Cheese Cream
Lemon Mirror Glaze (optional)
Garnish
Preparation
Crust
With the rack in the middle position, preheat the oven to 400°F (200°C).

In a bowl, combine the flour and salt.

In another bowl, cream the butter and sugar with an electric mixer. Add the egg and beat until the mixture is smooth. Using a wooden spoon, mix in the dry ingredients. Spread the dough into a 9-inch (23 cm) tart pan with removable bottom. Firmly press the dough into the bottom and sides of the pan. Refrigerate for 30 minutes.

Cover the pie shell with foil and fill with dried beans. Bake for 10 minutes. Remove the beans and foil and bake for another 5 minutes or until the crust is cooked but not yet golden. Let cool on a wire rack. Reduce the oven temperature to 375°F (190°C).
Lemon and Cheese Cream
Meanwhile, in a bowl, whisk the condensed milk with the cream cheese. Add the egg yolks and lemon juice and whisk until smooth. Spread the lemon and cheese cream in the pie crust. Place the pie on a baking sheet and bake for 25 minutes or until the centre of the filling is still slightly jiggly. Let cool. Refrigerate 1 hour or until completely chilled.
Lemon Mirror Glaze (optional)
In a bowl, sprinkle the gelatine over 1 tbsp (15 ml) of the water. Let bloom for 5 minutes.

In a small pot over medium heat, warm the remaining water, the sugar and lemon juice until the water has dissolved. Add the gelatin mixture, along with the food colouring. Refrigerate for 15 minutes or until the mixture has thickened slightly. Pour evenly over the tart filling. Refrigerate for 1 hour.

When ready to serve, garnish with blueberries and meringues.
To help you with this recipe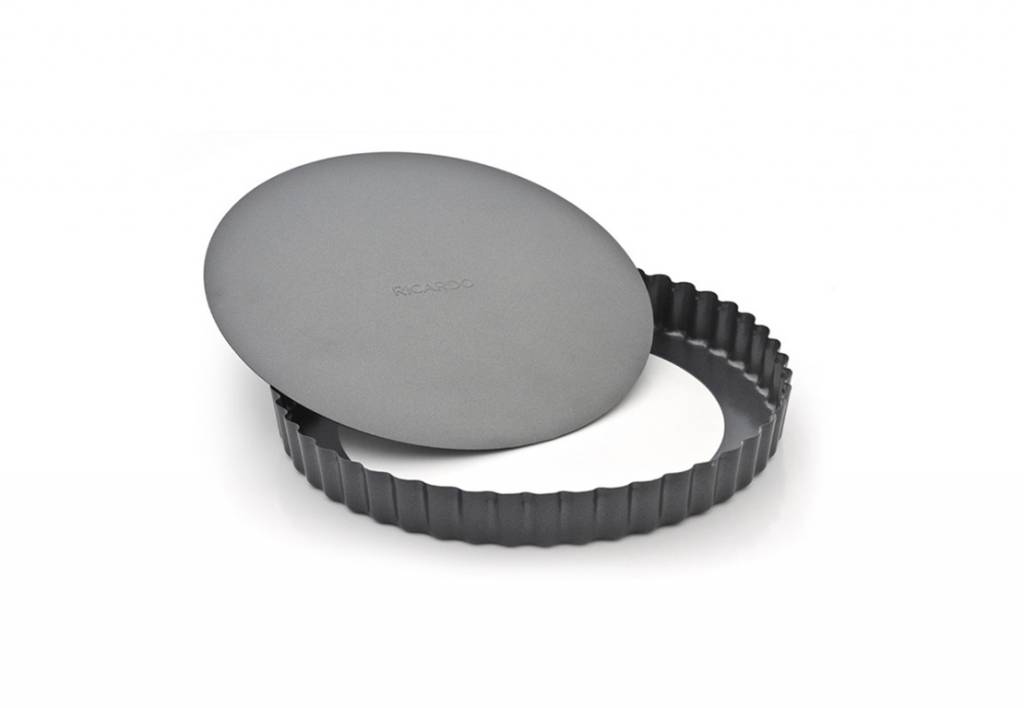 This round tart pan is perfect for baking both savoury and sweet tarts. The dark metal creates a crispy crust and the removable bottom allows for easy unmolding and cleaning.
16.99 $
SHOP NOW