Need a fancy recipe for a special occasion? These braised veal cheeks cooked low and slow in red wine is sure to impress!
Ingredients
Celery and Grape Salad
Braised Veal Cheeks
Cauliflower Purée
Preparation
Celery and Grape Salad
Place the cauliflower in a glass jar.

In a small pot, bring the water, vinegar, honey, garlic and a pinch of salt to a boil. Simmer for 5 minutes. In a sieve set over the jar of cauliflower, strain the hot liquid. Seal the jar and let cool.

Let marinate for 24 hours in the refrigerator to allow the flavours to develop.

Using a vegetable peeler, peel the celery into long ribbons and place in a bowl of ice water to help them curl.

When ready to serve, drain the celery ribbons and the cauliflower and place in a bowl. Add the grapes and pecans. Mix well and adjust the seasoning.
Braised Veal Cheeks
With the rack in the middle position, preheat the oven to 275°F (135°C).

In a large ovenproof pot over high heat, brown the veal cheeks in the oil. Season with salt and pepper. Set aside on a plate.

In the same pot over medium heat, soften the vegetables in the butter. Deglaze with the wine. Add the veal stock, bay leaf, thyme and veal cheeks. Bring to a boil.

Cover and cook in the oven for 3 to 4 hours or until the meat is fork tender. Remove the meat from the pot and keep warm.

Over medium heat, reduce the sauce until thickened. Adjust the seasoning.
Cauliflower Purée
Meanwhile, in another pot over medium heat, soften the onion in the butter. Add the cauliflower and milk. Bring to a boil and simmer for 15 minutes or until the cauliflower is tender.

In a food processor, purée the cauliflower mixture until smooth. Season with salt.

Place the veal cheeks over the cauliflower purée. Drizzle with the sauce and serve with the celery and grape salad.
Note
This recipe was created by Café RICARDO chef, Isabelle Deschamps-Plante.
To help you with this recipe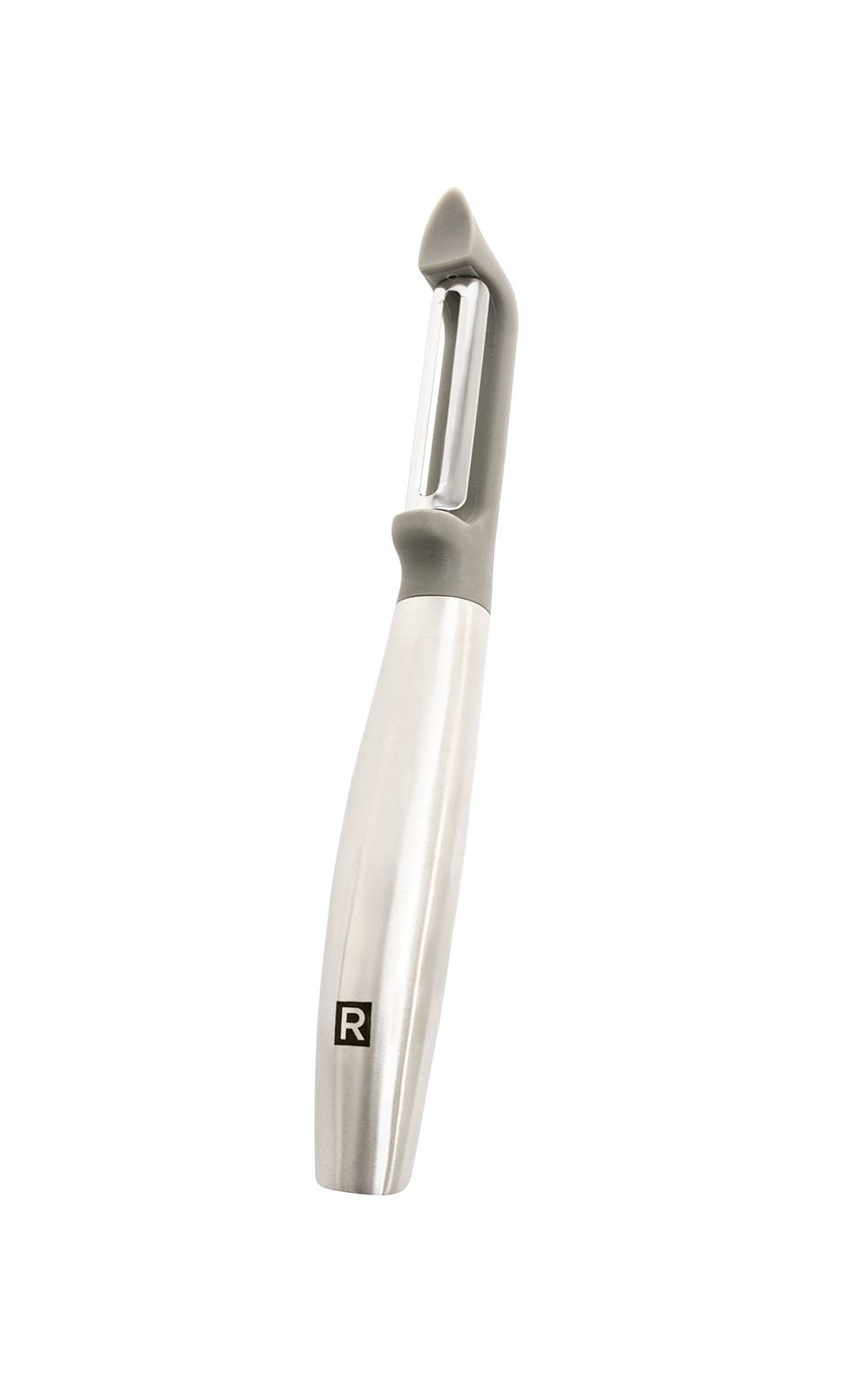 This RICARDO straight handle peeler has a long-lasting ultra-sharp blade and an ergonomic stainless steel handle, and can be used with either the right or left hand. Practical and sturdy, it comes with a blade cover for safe storage.
16.99 $
SHOP NOW