This easy recipe for a trio of muffin flavours—zucchini and chocolate, apple and date, spiced sweet potato—cooks right in a sheet pan and makes a great lunchbox snack for the kids.
Ingredients
Spiced Sweet Potato
Apple Date
Zucchini Chocolate
Muffin Mix
Preparation
Spiced Sweet Potato
Prick the sweet potato all over with a fork and place on a plate. Cook in the microwave oven for 6 to 8 minutes, turning over once, until tender when pierced with the tip of a knife. Let sit for 5 minutes. Cut the potato in half, scoop out the flesh and place in a large bowl. Coarsely mash with a fork. This will yield about 3/4 cup (180 ml) of potato purée. Stir in the spices. Set aside.
Apple Date
In another bowl, combine the applesauce, dates and cinnamon. Set aside.
Zucchini Chocolate
In a third bowl, combine the zucchini, chocolate chips and cocoa powder. Set aside.
Muffin Mix
With the rack in the middle position, preheat the oven to 350°F (180°C). Line a 17 x 12-inch (43 x 30 cm) baking sheet with parchment paper, letting it hand over two sides. Generously butter the paper and the other two sides of the baking sheet.

In a fourth bowl, combine the wheat bran cereal, both flours, baking powder, baking soda and salt.

In a fifth bowl, beat the eggs and sugar with an electric mixer for 2 minutes. Add the oil. With the machine running on low speed, add the dry ingredients alternating with the yogurt. Divide the batter equally among the three bowls of flavouring. Mix well.

Pour the three mixtures out side by side on the baking sheet. Sprinkle the sweet potato mixture with the pumpkin seeds. Sprinkle the apple-date mixture with the oats.

Bake for 35 minutes or until a toothpick inserted in the centre of the muffins comes out clean. Let cool on a wire rack. The muffins will keep in an airtight container for 3 to 4 days at room temperature. When ready to serve, cut into squares or rectangles.
To help you with this recipe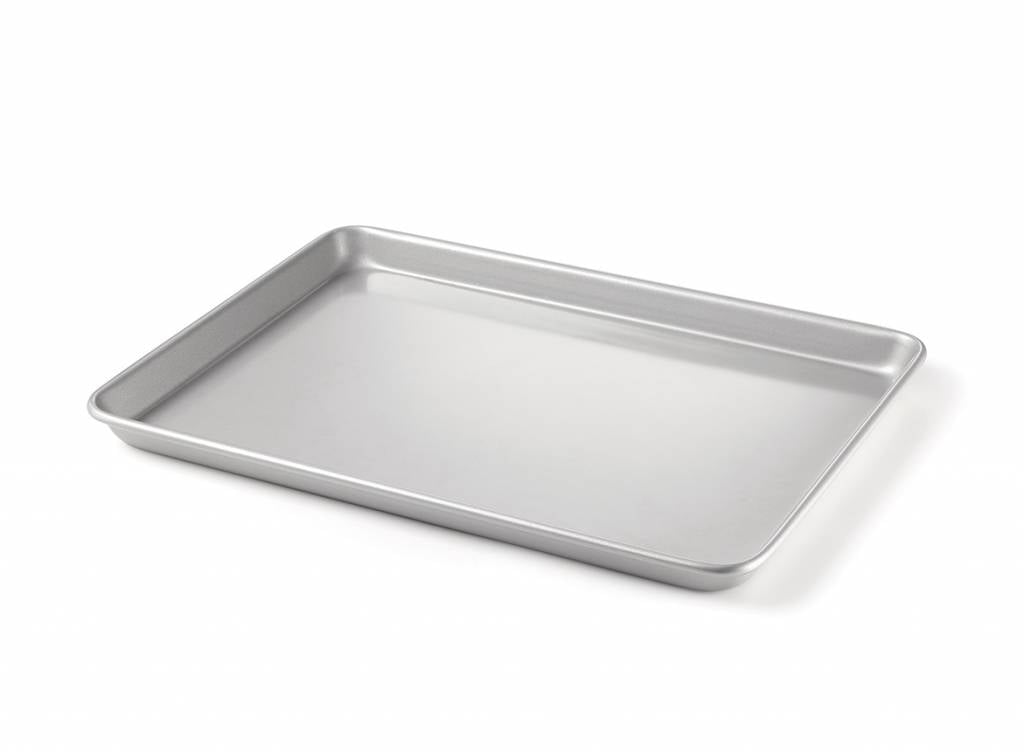 This must-have cooking accessory is perfect for baking cookies, pastries, meat or a whole meal making sheet pan dinner and getting the weeknight meal on the table fast.
25.99 $
SHOP NOW