Preparation
Place the potatoes in a pot. Cover with cold water and season with salt. Bring to a boil and simmer for 15 minutes or until tender. Drain. Rinse under cold water and let cool to room temperature.

On a work surface, cut the head off of the body of each squid and remove the beak. Remove the cartilage from the body and peel off the fins and skin, if desired. Rinse the bodies and tentacles under cold running water (see note). Pat very dry with paper towels.

In a large non-stick skillet over high heat, cook the squid and garlic in 2 tbsp (30 ml) of the oil until heated through and slightly browned, about 5 minutes. Season with salt and pepper. Remove from the heat and let cool in the skillet.

On a work surface, cut the squid bodies into rings and the tentacles in half. Transfer the squid and their cooking oil to a large bowl. Add the potatoes and remaining ingredients, except for the caperberries. Gently mix. Adjust the seasoning.

Serve the salad on plates garnished with the caperberries, if desired, and a drizzle of olive oil.
Note
Fingerling potatoes can be replaced with another variety of waxy potato cut into cubes or unpeeled baby potatoes.
You can buy squid that have already been cleaned. In this case, you will still need to rinse them under cold water and pat them very dry before cooking.
To help you with this recipe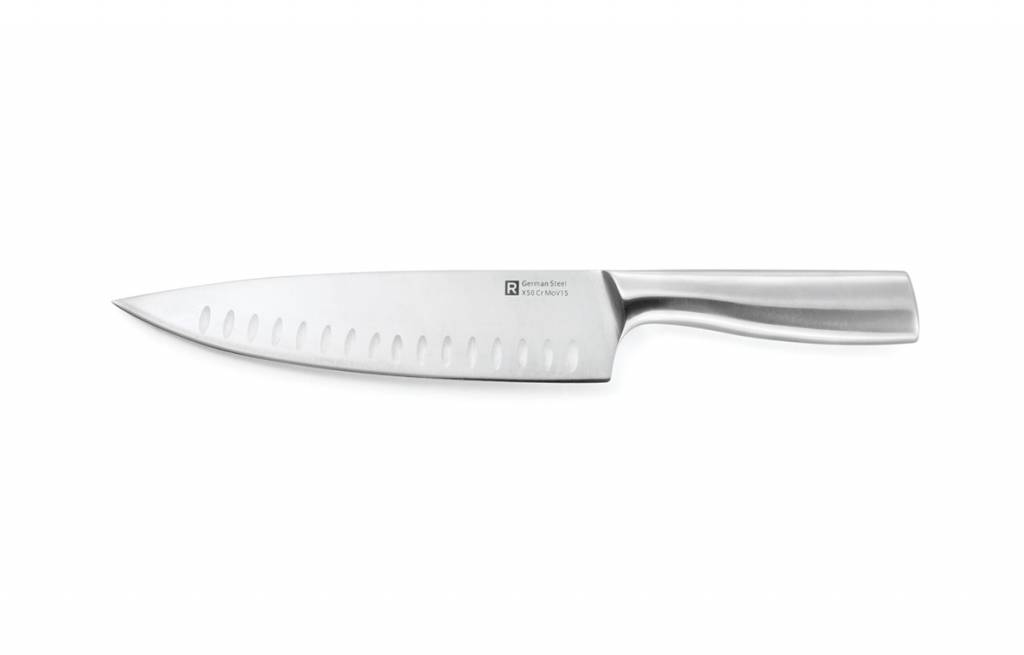 This chef's knife was designed by RICARDO's Test Kitchen staff. Its weight and ergonomic handle are perfectly balanced. The sharp blade provides perfect cuts, while its bevelled grooves ensure meat will not stick to it.
54.99 $
SHOP NOW