Ingredients
Rice
Pico de Gallo (Tomato and Onion Salsa)
Frijoles Refritos (Black Bean Purée)
Tortillas and Toppings
Preparation
Rice
In a pot, bring the water, rice and salt to a boil. Cover and cook over low heat for 40 minutes or until the liquid is absorbed and the rice is tender. Remove from the heat. Let sit, covered, for 5 minutes.
Pico de Gallo (Tomato and Onion Salsa)
Meanwhile, in a small bowl, combine all of the ingredients. Season with salt and pepper. Set aside.
Frijoles Refritos (Black Bean Purée)
In a large non-stick skillet over medium heat, soften the garlic in the oil. Off the heat, add the beans. With a potato masher, crush the beans. Add the water and bring to a boil. Simmer for 5 minutes over medium heat until the beans form a thick paste. Season with salt and pepper. Keep warm.
Tortillas and Toppings
In a bowl, mash the avocados and lime juice with a fork. Season with salt and pepper.

Place the tortillas on a work surface. Spread the frijoles over the centre of each tortilla. Layer with the mashed avocado, rice, corn, cheese, pico de gallo and cilantro. Fold the sides of the tortilla in towards the centre, then roll it up around the filling. Turn so that the seam side is facing down.

With a pastry brush, cover the burritos in oil and lightly season with salt.

In a large skillet over medium-low heat, brown half of the burritos at a time on all sides, starting with the seam side down. Serve with sour cream, if desired.
Note
A fried burrito is known as a chimichanga. This recipe is halfway between a burrito and a chimichanga since it is lightly heated in the skillet before serving.
To help you with this recipe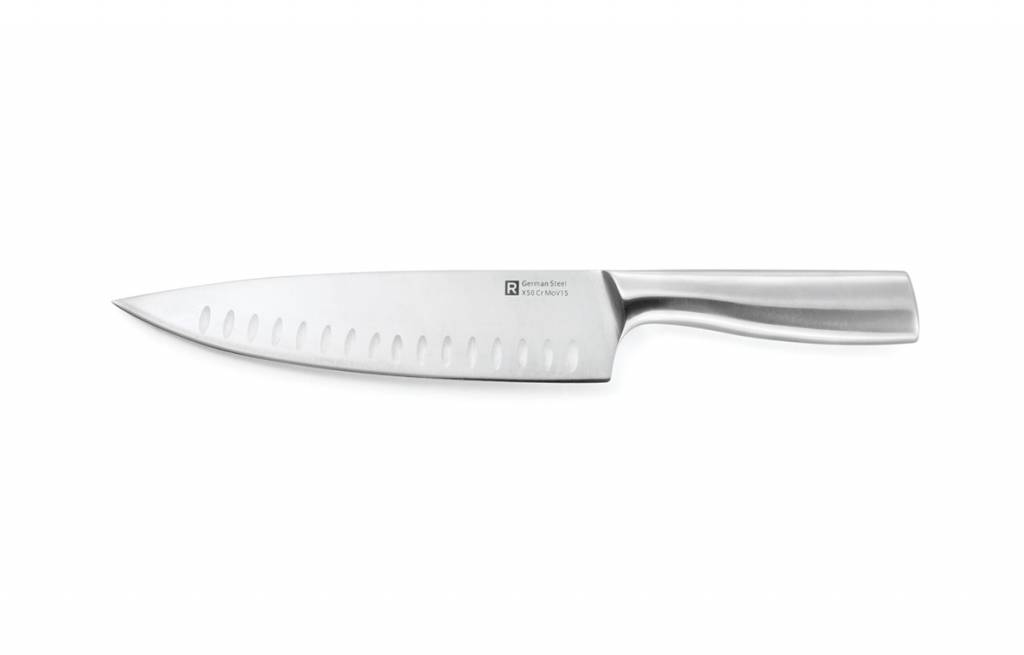 This chef's knife was designed by RICARDO's Test Kitchen staff. Its weight and ergonomic handle are perfectly balanced. The sharp blade provides perfect cuts, while its bevelled grooves ensure meat will not stick to it.
54.99 $
SHOP NOW