Ingredients
Dough
Filling
Toppings
Preparation
Dough
In a food processor, combine the flour, baking powder and salt for a few seconds. Add the egg and warm milk. Pulse just until the dough forms a ball. On a lightly floured work surface, knead the dough for 2 minutes or until smooth.

Place the dough in a bowl and cover. Let rest for 10 minutes.
Filling
Meanwhile, in a small bowl, rehydrate the dried mushrooms in the boiling water. Let sit for 5 minutes. Drain through a sieve placed over a bowl. Finely chop the mushrooms. Set aside ½ cup (125 ml) of the mushroom broth.

In a large skillet over high heat, brown the onion and portobello mushrooms in the butter. Add the chopped boletes and reserved broth. Cook until the liquid has completely evaporated. Add the sauerkraut and mix well. Season with salt and pepper. Let cool.

On a floured work surface, roll out one-third of the dough at a time until 1/16 inch (2 mm) thick. Keep the dough covered with a damp cloth as you work to prevent it from drying out. Using a 3-inch (7.5 cm) round cookie cutter, cut out discs of dough. You can collect the scraps and roll them out one more time.

Place 2 tsp of the filling at the centre of each disc of dough. Brush round half the edge of each disc of dough with water and fold into a half-moon, pressing the edges to seal. Set aside on a lightly floured baking sheet. You should get about 40 pierogis. You can freeze them at this point, if desired.

In a large pot of salted boiling water, cook half of the pierogis at a time until al dente (when they rise to the surface of the water, cook for 4 more minutes). Drain and place on a lightly oiled baking sheet.
Toppings
In a large non-stick skillet over high heat, brown the mushrooms and onion in 1 tbsp of the butter. Set aside on a plate.

In the same skillet over medium heat, brown one-third of the pierogis at a time in the remaining butter on both sides. Add more butter as needed. Return all of the pierogis, as well as the mushrooms and onions to the skillet. Mix well. Serve with sour cream and chives.
To help you with this recipe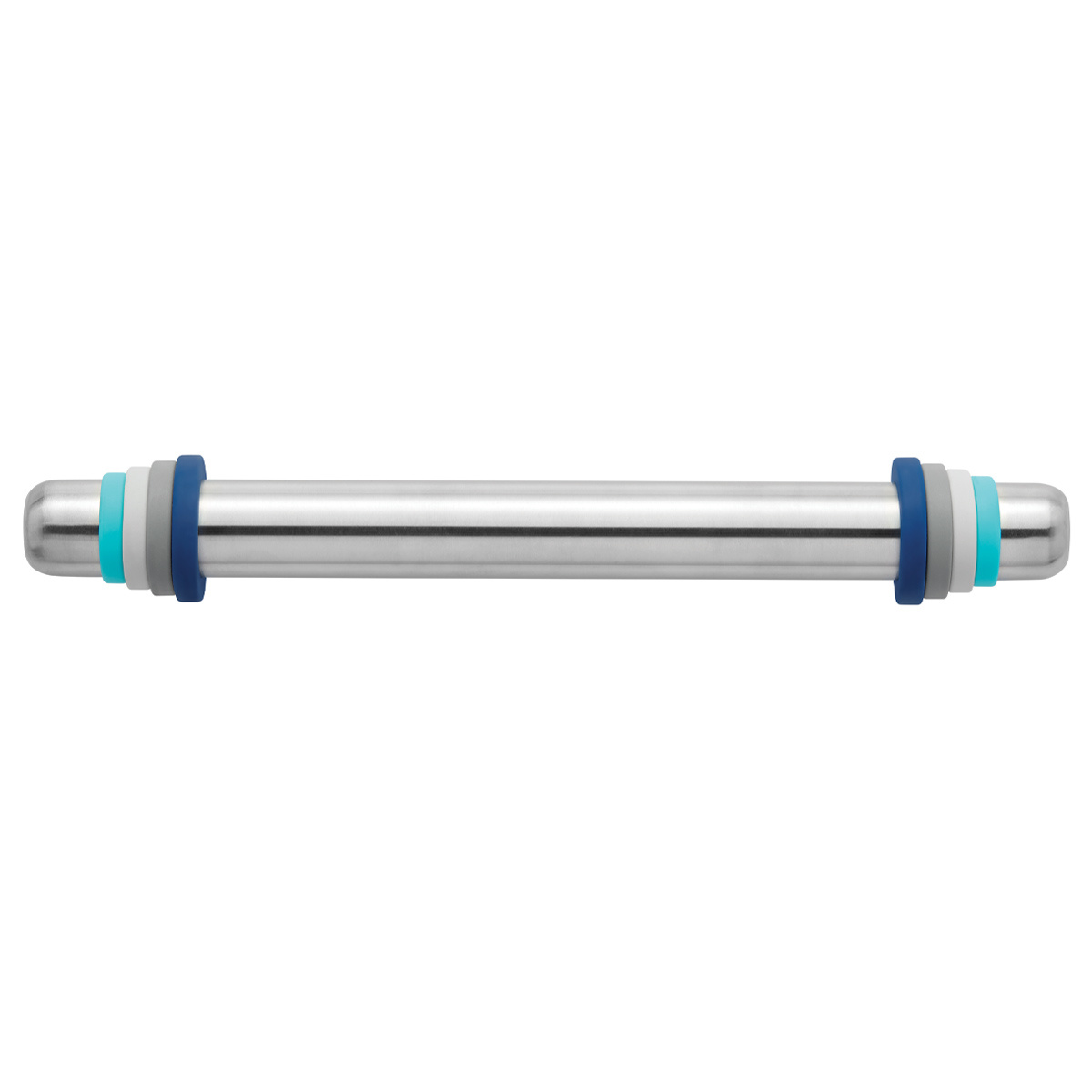 This rolling pin has a smooth and non-stick stainless steel surface. It can be chilled beforehand in the freezer, making it easier to work with the dough. Removable silicone discs slide easily onto the pin to help roll out your preferred pastry thickness.
24.99 $
SHOP NOW