Reader Question
"I recently adopted a vegetarian diet and quickly realized that most of my favourite sauces and broths start off with animal products. Can you recommend a good way for me to replace them?" — Stéphane M.
The Breakdown from our Test Kitchen
To give our vegetable demi-glace the same deep flavour and dark colour as the veal-based version, we roasted our vegetables in the oven until caramelized. We chose eggplant and portobello mushrooms for meaty umami, and left the skins on our carrots, garlic, leek and onions to amp up the flavour (and save some time and effort, too). In this recipe, flour is the thickener that stands in for gelatin (normally provided by veal bones). Tomato paste also darkens the overall colour of the sauce and concentrates its flavour. We scraped the roasted vegetables and their delicious caramelized juices from the pan—deglazing it with red wine for good measure—and then simmered the juices, vegetables and herbs in water to make a savoury stock. You could stop there and have an excellent soup base, but we kept going by straining the stock and reducing it to the velvety-thick consistency of demi-glace.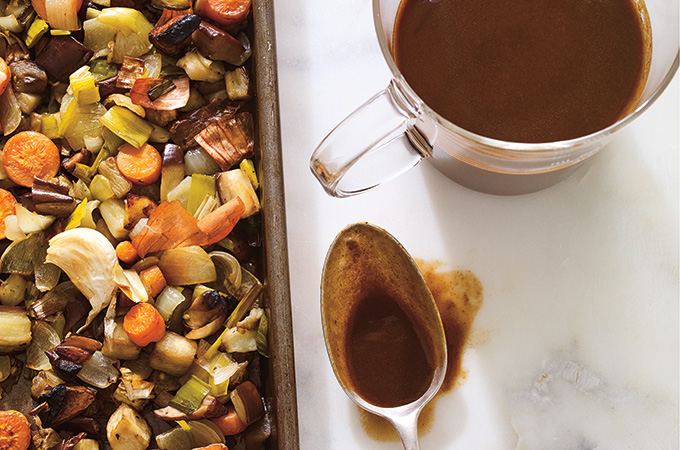 Take stalk
Mirepoix (diced onion, carrot and celery) is the foundation for many French stocks and sauces. For this recipe, we swapped celery in the roasting pan for milder leeks, but then infused the demi-glace with a lighter celery flavour by adding a stalk to our bundle of herbs, otherwise known as a bouquet garni.