The Super Bowl is the perfect opportunity to whip up a few classics to enjoy in front of the television. So whether you prefer the actual game, the commercials or the half-time show, you'll find something to munch on from our list of recipe suggestions below!
1. Wings
The first spot on our list clearly had to go to chicken wings. We highly recommend our best Buffalo-style version, but there are so many varieties available in case you're looking for something different: American-style, General Tao, spicy, fried with sesame seeds… Push the experience even further by pairing your wings with a classic blue cheese dip.
2. Nachos
Nachos can be enjoyed in so many ways. We particularly love them with this cheesy beef sauce, cooked low and slow in the slow cooker. Delectable! If you don't have that kind of time, however, try this cheese curd version, or go fancy with one inspired by poke. You'll be sure to wow any sceptics. And don't forget the guacamole!
3. Dips
Whether it's to pair with crudités, your wings or pretty much anything on your plate (it is the Super Bowl, after all), dips are an essential. This warm artichoke dip will be a particular hit. Looking for a cold alternative? Try one made with tofu and spinach; its flavour is reminiscent of Greek spanakopita.
4. Bites
What's a night of watching the big game without a plate of tasty bites? Whether you choose General Tao cocktail sausages or our popular apple-cheddar tart, you certainly won't be lacking in ideas. However, if you want to try something new, check out this recipe for Filipino-inspired lumpia, which pair perfectly with a cold beer.
5. Vegetarian
Sure, you can enjoy some veggies with dip, but you can do so much more than simply serve crudités! If you haven't tried our salty edamame, it's high time you did! So simple, and yet so satisfying. Snack-wise, our spicy chickpeas will beat out that bag of chips any day!
If you're looking for something more filling, try our tofu nems. Not convinced? One commenter shared: "This was our Super Bowl dinner! Everyone loved it! Served with mango, cilantro, cucumber, red pepper, as well as both spicy and sesame mayo and topped with crushed peanuts, it was simply wow!"
6. Pizza
Pizza is tasty in all its forms. We know many of you are addicted to our homemade pizza dough, but our quick and easy version on naan is also a good choice. Have fun with sizes and toppings, starting with our classic combo pizza. Cherry tomato focaccia can also be an interesting option, but if you want to go off the beaten path, try your luck with our all-dressed pizza pockets.
7. Fried
Why not? Indulge; it's the Super Bowl, after all! And we can't omit our delightful fried chicken from this list. If frying chicken seems a bit daunting, start small with our cheese arancini. Absolutely decadent!
8. Salads
"Salads? Seriously?" you may be asking us. Yes, salads! Reinvent Game Day with these delicious meal salads, made to share or enjoy on one's one. Our panzanella-inspired salad with tofu croutons will be a great choice to enjoy with the family, but sometimes, a classic Caesar salad can't be beat.
9. RICARDO Ready-to-Eat Meals
With our selection of ready-to-eat and ready-to-heat meals, you've got the ultimate TV dinner. Heat the tray for five minutes in the microwave for a quick lunch, and you've got a world of flavours available to you!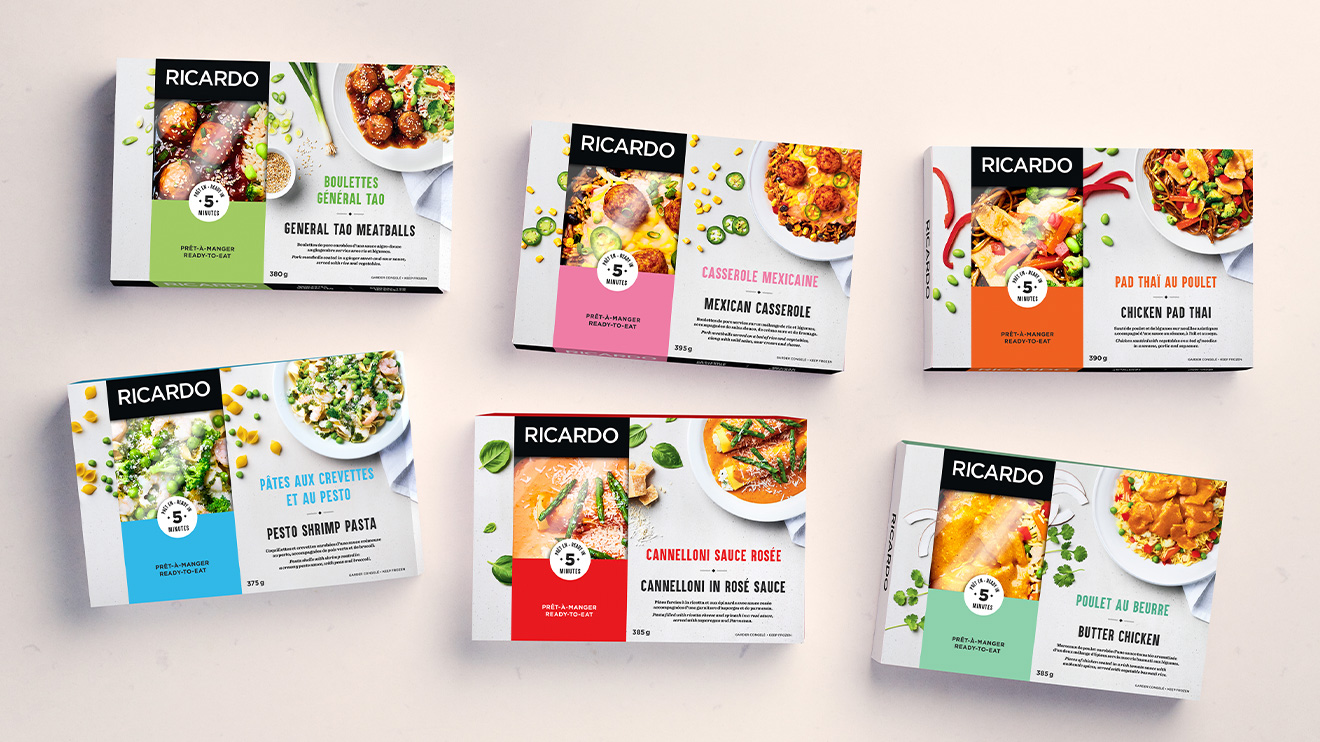 Cannelloni with rosé sauce, Mexican casserole, General Tao meatballs, chicken pad thai with vegetables, pasta with shrimp and pesto, and butter chicken. Our six single-serve frozen meals contain a generous serving of protein and vegetables, for a savoury and satisfying Super Bowl meal.
10. Dessert
Still hungry? Us too! We won't go too crazy, so we're only suggesting two ideas. First, there are our peanut butter, pretzel and chocolate cookies. We know you'll find some room in your stomach the moment you lay eyes on them. Otherwise, for something lighter and quicker, there's our spicy caramel corn with peanuts. The perfect way to cap off the evening!
Enjoy the game!