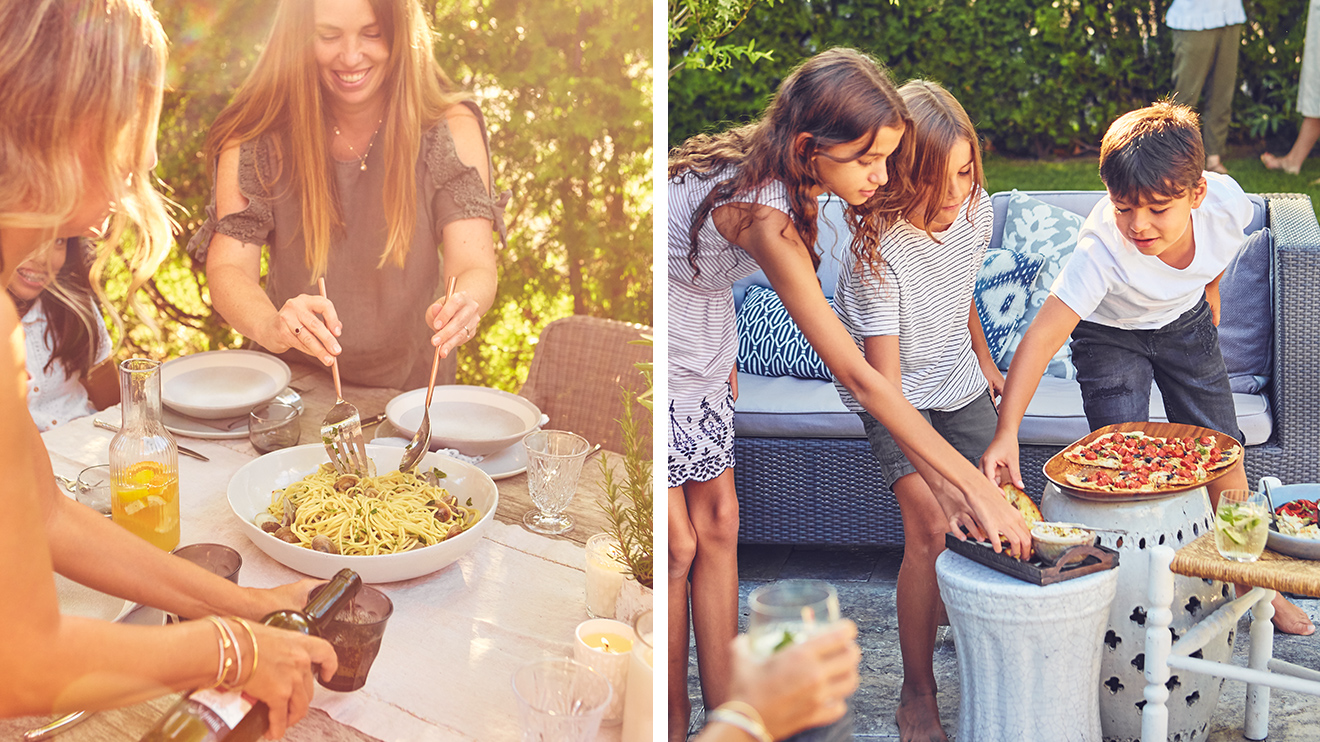 1. Hugo Spritz (Aperitivo)
Let's begin our festive soirée with the perfect drink! Created about 15 years ago in South Tyrol, the Hugo is a variant of the classic Spritz. This Prosecco-based cocktail usually includes lemon balm, but the trend is to replace that ingredient, like we did here with elderflower liqueur.
2. Orange-Honey Lemonade (Limonata)
And to ensure that everyone has something to drink, serve the kids this sunshine-coloured lemonade that's both tasty and thirst-quenching!
3. Mortadella Mousse (Spuma di Mortadella)
Blending mortadella into a smooth purée is a surprising way to enjoy this popular cold cut. This dip, which is a great alternative to the usual pâté, can be made the night before; simply keep it in the fridge until ready to serve.
4. Savoury Fennel, Tomato and Olive Tart (Torta Salata Stile Pizza) 
Even though it looks like it, the crust in this tart has nothing to do with pizza! Its texture is at once crispy yet melts in your mouth, and its saltiness will make your mouth water. Topped with fragrant fennel, cherry tomatoes and olives, cook it on a pizza stone directly on the grill. Cut it into imperfect squares for a rustic, but refined, presentation.
5. Spaghetti with Clams (Pasta alle Vongole)
This simple pasta dish is inimitable when made with fresh clams (it's a bit of extra work, we know!). They need to be washed and properly scrubbed, but once they are cooked, you'll get a tasty and fragrant clam juice that makes all the difference. With a bit of white wine and fine herbs, the pasta will soak up this delicious broth when added at the end of the cooking process.
6. Asparagus and Zucchini Salad (Asparagi e Zucchine in Insalata)
It's during the summer months that we appreciate raw vegetables and especially those that are freshly picked. In this recipe, asparagus and zucchini are thinly sliced and tenderized, one in lemon juice, the other in balsamic vinegar. Add zucchini flowers (popular in Italian cuisine) when serving, along with basil. Their soft and subtle scent pairs well with the saltiness of the Parmesan, bringing balance to each bite.
7. Figs and Burrata (Fichi e Burrata)
Contrast is essential to enhance the softness and creaminess of burrata. Even though our first instinct is to pair the fresh cheese with tomatoes, it's a surefire hit with confit figs with honey and lemon. Simply serve the whole with grilled onions, fine herbs and bread. Note that fresh Mediterranean figs will be hitting the produce section of stores in August. Don't miss them, or you'll be left to make this irresistible recipe next summer!
8. Steak and Tomatoes (Bistecche e Pomodori)
We adore elevated flavours and there's no hiding it. That's the case with this tomato dish that we could have served with burrata, but  preferred to pair with meat. With its touches of rosemary and garlic, and a squeeze of lemon, its quick sauce also plays the part of a vegetable side dish.
9. Raspberry Tiramisu (Tiramisu ai Lamponi)
One look is all you need to see that our tiramisu is a twist on the classic. It's difficult, after all, to resist the call of summer raspberries waiting to be picked. They're the perfect seasonal signature, with the tartness of the berries pairing wonderfully with the coffee aromas and the creaminess of the mascarpone.