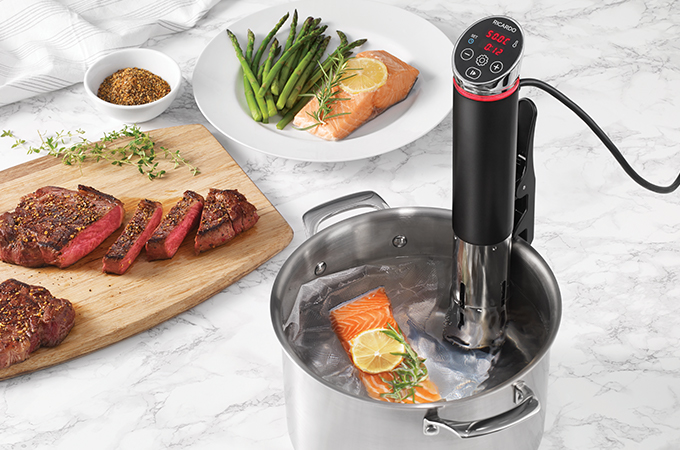 "The sous-vide precision cooker is a culinary revolution because it introduces a different way of cooking. It's the only product that makes it possible to obtain perfect doneness, every time. With this device, you have the certainty of having meat or seafood cooked exactly as you like it. It gives you confidence and it takes away any stress." – Ricardo
The immersion circulator in a nutshell
Also known as an immersion circulator, the sous-vide precision cooker is a small cylindrical device with a thermostat that heats the water to the desired temperature and circulates it constantly. The cooking time of the food (which has been placed in a vacuum-sealed bag) is longer, allowing the heat to gradually reach the heart of the food item without overcooking it on the surface. As the temperature remains stable, cooking is gentle and even, from start to finish. And what about seasoning and browning meat? This can be done before or after the sous-vide cooking process, although we prefer to season before and brown after—we find the resulting texture much better.
Sous-vide cooking in six steps
1 / 6

Step 1: Preparation

Different food categories do not cook at the same temperature, so they should be immersed in water separately (individual portions shorten the cooking time, too). For example, vegetables are ideally cooked before meat. They then rest in the refrigerator while the meat is cooked in turn.

2 / 6

Step 2: Seasoning

When vacuum-sealing the food item, you can add seasoning (spices, herbs, salt and pepper) according to the recipe or according to your tastes. You can also add lemon slices, oil or butter. In any case, go easy—even a very small amount goes a long way flavour-wise.

3 / 6

Step 3: Bagging and sealing

After placing the food item and seasoning in the bag, the air is removed using a vacuum sealer. It can also be done by slowly dipping a silicone bag or a zippered freezer bag into the water. The water pressure removes air from the bag, which you seal just before the zipper opening reaches the surface of the water.

4 / 6

Step 4: Selecting temperature and cooking time

Once the appliance has been attached to a container filled with water (large pot, deep pan, Dutch oven), program the temperature and cooking time according to the recipe. There are also mobile apps to guide you.

5 / 6

Step 5: Sous-vide cooking

As soon as the water reaches the desired temperature, plunge the bag in to start the cooking process. When the indicator announces the end of the cooking time, remove the bag using tongs or oven mitts. You then have the choice to either finish cooking immediately on the barbecue or in the frying pan (see the next step), or put the bag into an ice bath, then place it in the refrigerator for 3 to 4 days or in the freezer for later use. And by the way, magnetic clips and a sous-vide cooker lid are practical accessories during this stage!

6 / 6

Step 6: Finishing

Why is this step necessary? Because some foods, such as meat, fish and poultry, have a bland or even greyish colour when they come out of the bag. By searing them on the grill or in a very hot frying pan with a little oil for a few seconds, flavour, colour and a nice, brown crust are added.
Cooking guide
With the purchase of a RICARDO sous-vide precision cooker, a cooking guide for different food items is included. Here are some highlights: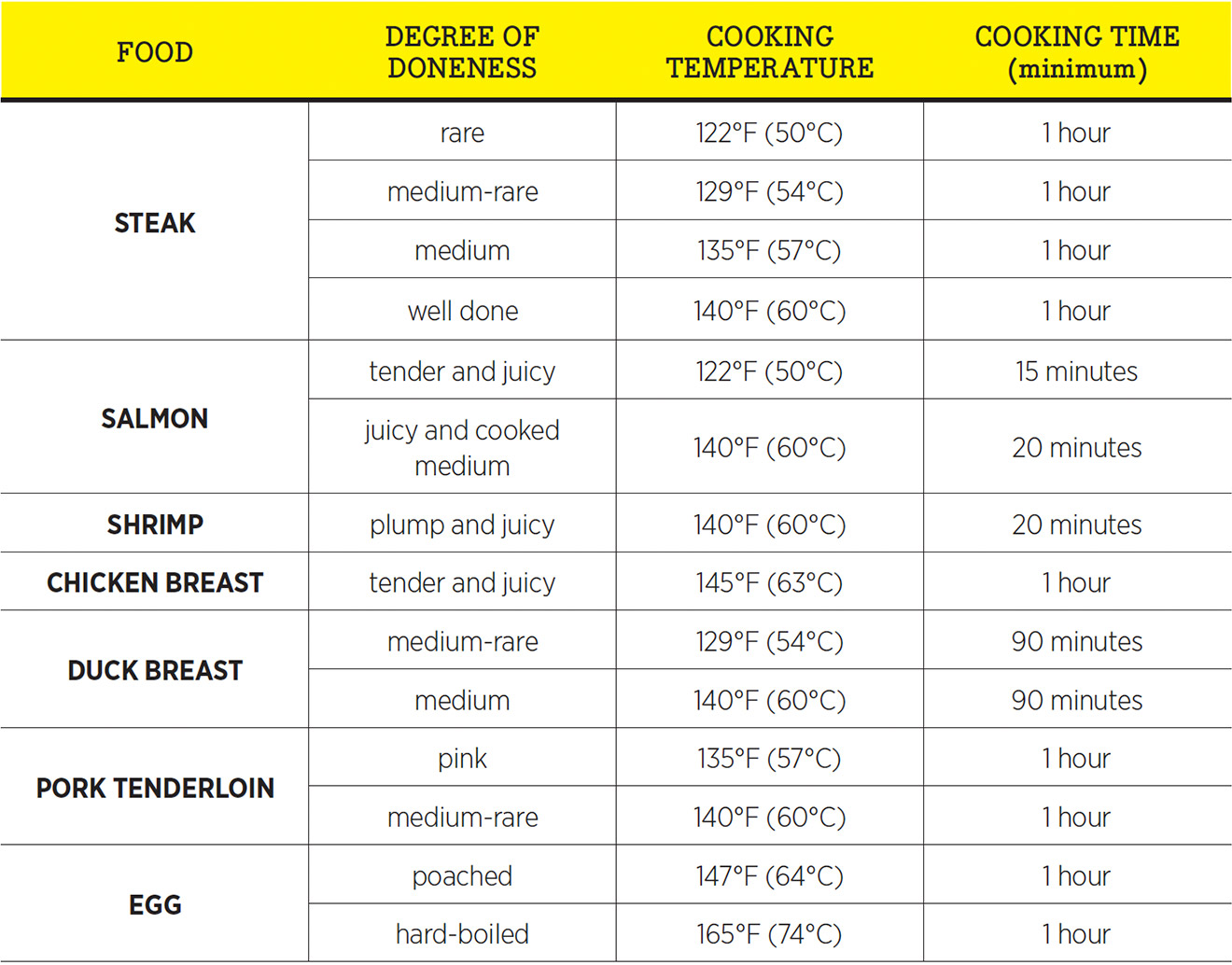 Good to know
The sous-vide technique allows for perfect and safe cooking provided you eat the food immediately. The information contained in the cooking guide included with the appliance does not apply to long-term storage, but to immediate consumption or a normal shelf life in the refrigerator, i.e. 3 to 4 days. If you want to keep your food in the sealed bag in the refrigerator for later consumption (preservation for more than 10 days), leave it in the cooking bath for longer—a thermal treatment called pasteurization—and then cool it in an ice bath.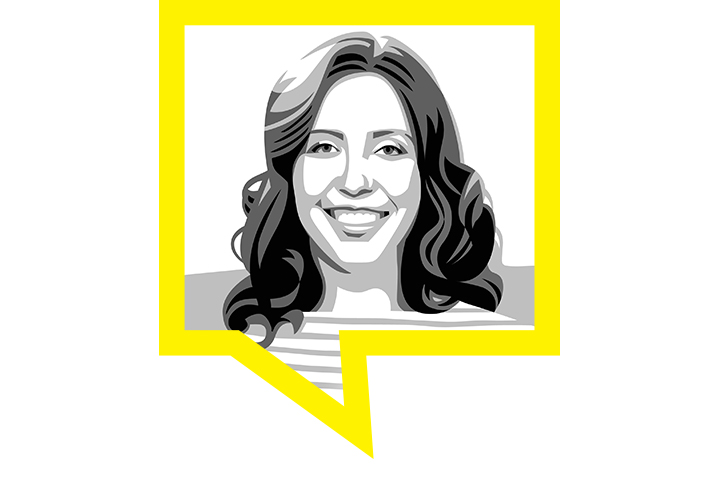 Ask the expert
Before the launch of our vacuum precision cooker, Kareen Grondin, head of product development at RICARDO, tested it for several months. She's our official in-house expert.
What are the main advantages of a sous-vide precision cooker?
It's loved for its very precise cooking, which is gentle and uniform, and allows for meat of unrivalled tenderness. A steak, for example, will be cooked perfectly throughout. Even if you don't eat meat very often and are not as familiar with cooking it (we now tend to reduce our meat consumption), this tool guarantees perfection every time.
Do you have to buy sous-vide cooking bags?
Freezer bags with a Ziploc-type zipper can be used and, for ecological reasons, washed and reused. You can also opt for reusable silicone bags.
Can shrimp be frozen after sous-vide cooking?
Yes. However, like any food you want to freeze after cooking, cool it very quickly in a bowl of ice water in its sealed bag as soon as it's done. Then it can be stored in the freezer for several months. To warm it up, use the precision cooker again.
Is it possible to sous-vide cook a piece of meat, such as a roast beef fillet of about 4 or 5 kg?
Even large pieces of meat can be sous-vide cooked. The cooking time will however have to be increased—it takes about 1 hour of cooking for every 2.5 cm (1 inch) thickness of meat.
Can we check the cooking of a piece of meat with a thermometer, then seal it again and put back in the water if it's not ready?
There is no problem with doing this, as long as the piece of meat is handled quickly.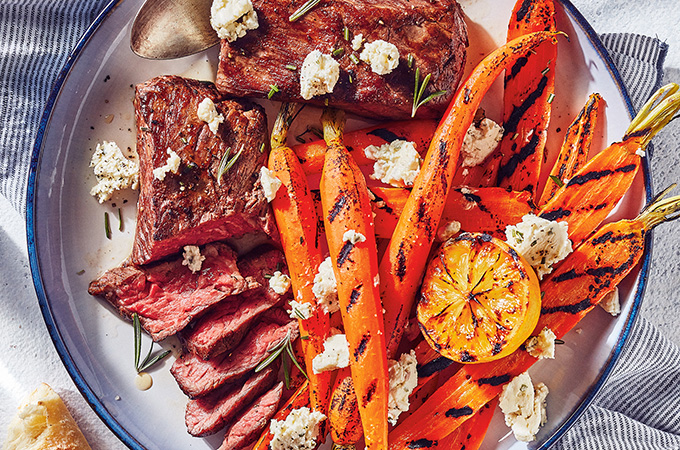 Now you can use your new knowledge to make these tasty recipes with your sous-vide device and achieve protein cooked just like in a restaurant, but from the comfort of your home. There's nothing more awesome than that!