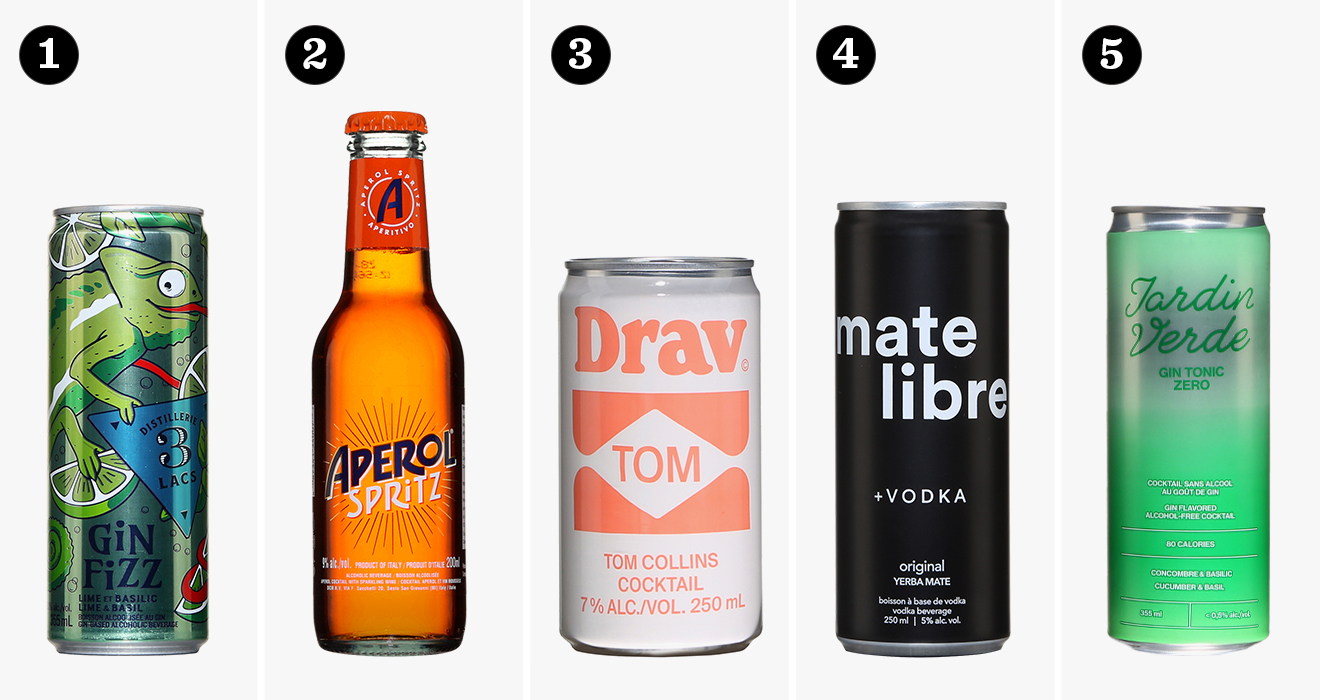 1. Lime Basil Gin Fizz, Distillerie des 3 Lacs
Both fresh and sparkling, the taste of basil is very present, which pairs nicely with the lime, all without being too sweet. And the original design of the can is definitely eye-catching.
2. Ready-to-Serve Aperol Spritz, Davide Campari
Our colleague Caroline, senior art director, loves all things Italy. She often brings back this type of product in her suitcase, so she was happy to come across this very sunny spritz, just like the ones enjoyed on a Venetian patio.
3. Tom Collins, DRAV
A refreshing Tom Collins is a go-to by the pool on a hot summer day or at a picnic after a long bike ride.
4. Mate Libre + Vodka, Station 22
We already loved yerba-infused drinks, so we definitely fell under the spell of these ready-to-drink concoctions. It's a mixture of yerba mate, orange, lemon and agave, with a touch of vodka. Halfway between cocktail and iced tea, it's refreshing and not too sweet. This is the first organic ready-to-drink offering at the SAQ.
5. Jardin Verde Gin Tonic Zero, BluePearl Distillerie
Jardin Verde is an alcohol-free ready-to-drink option. Lightweight, this mocktail is great for a day of water sports under the sun, given that it'll help cool you off but still keep you alert.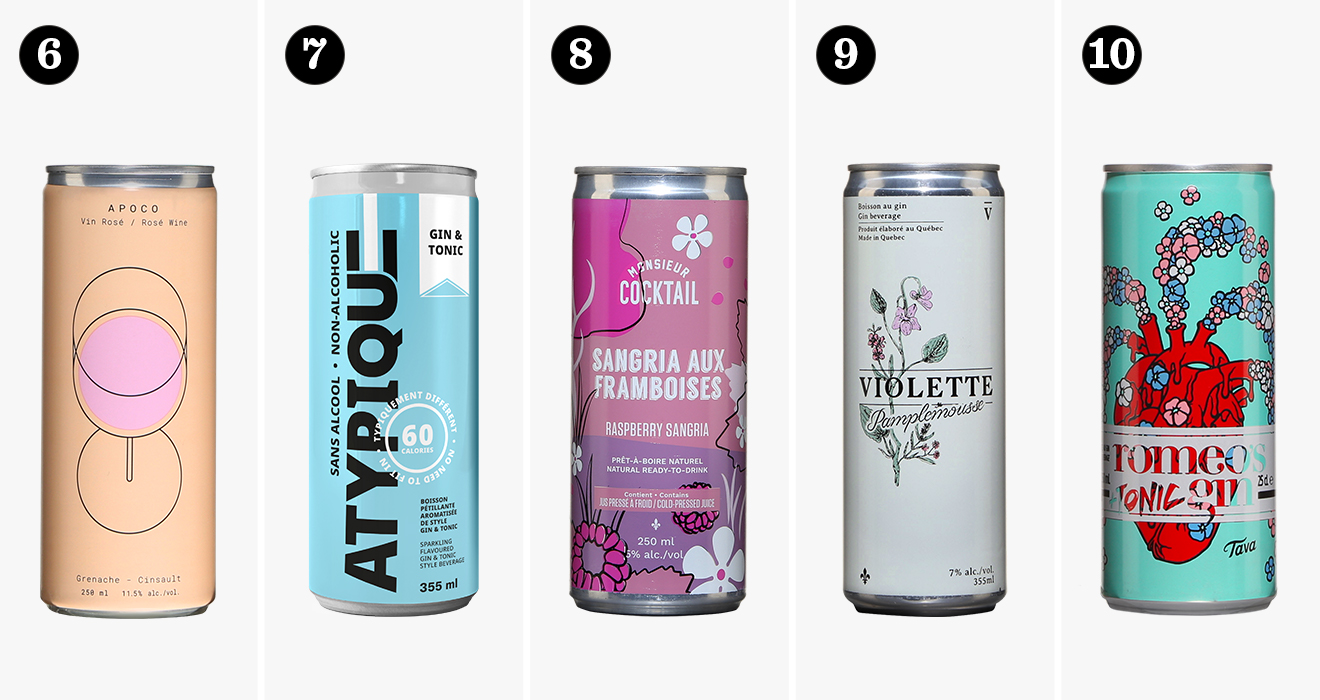 6. Apoco Wine, Groupe Triani
It's not quite a ready-to-drink, but we couldn't resist including this rosé wine in a can, a blend of Grenache and Cinsault, which is so practical for picnics or on a camping trip.
7. Atypique Alcohol-Free Gin & Tonic, Station Agro-Biotech
Enjoy this pleasurable drink in the afternoon, without the guilt. Be sure to personalize it by adding lots of cucumber slices.
8. Rosé Raspberry Sangria, Monsieur Cocktail
We really appreciate this rosé raspberry sangria, a drink that combines rosé wine with cold-pressed juice. Served chilled, it's the perfect summer cocktail!
9. Violette Pamplemousse, Distillerie Mariana
This drink is made with Distillerie Mariana's Violette gin, grapefruit juice and sparkling water. It's very floral and there's a good balance of bitter and sweet.
10. Romeo's Gin + Tonic
While we like to prepare our own gin and tonic, during the summer we make our lives a bit easier with this premade version. Romeo's range of gin products is varied, but we have a soft spot for this classic.
Local flavour
Strolling through the aisles of the SAQ, one can't help but notice the many displays of ready-to-drink cocktails made from wine and spirits that have appeared on the shelves in the last two years. The reason? The government-owned company issued a call to offer more of these types of products. Many Quebec distillers answered the call and diversified their production by offering a range of ready-to-drink options. Almost half of those sold at the SAQ are therefore from Quebec, and this category stood out with a 75% sales increase in volume for 2020-2021. It's something to be proud of!
Got some time on your hands? Be sure to make one of our delicious cocktails: