Monday: Brown Rice with Lentils and Caramelized Onions
Onions are the star of this vegetarian dish filled with aromatic spices that'll waft through the house. Sauté all of the ingredients in a skillet. It's a true fall delight that the kids will love and even carnivores will enjoy.
Tuesday: Leek and Goat Cheese Omelet
Tasty and quick are two qualifiers that define this recipe in which leeks are enhanced. To get the most out of this vegetable, we use both its white and green parts. To your eggs!
Wednesday: Root Vegetable Shavings Soup
A meal filled with only the good stuff! Parsnip in soups is synonymous with comfort, as this recipe clearly shows. This root vegetable is the perfect companion to the carrots in the broth. Enjoy with a soft bread to sop up every last drop.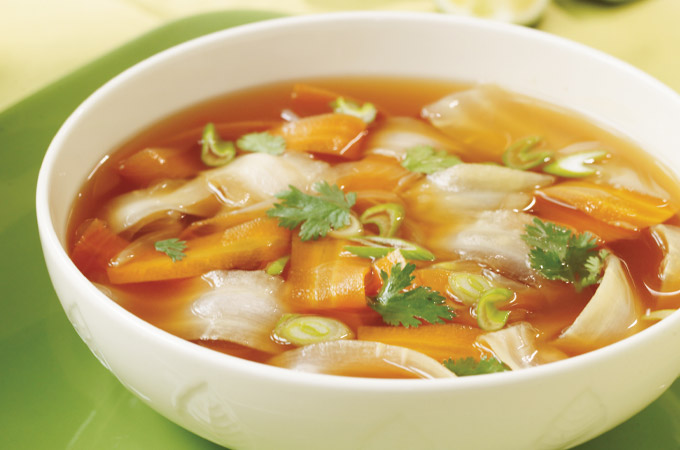 Thursday: Braised Cabbage with Sausage and Sweet Potato
Here's a tasty way to cook with cabbage! Add your grandma's favourite vegetable to your menu with this delicious, budget-friendly recipe. Enjoy it as your main meal tonight and reheat for lunch tomorrow. The flavours are even better the next day!
Friday: Boiled Chicken with Tarragon Fall Vegetables
On the French gastronomy map thanks to King Henry IV, this tender chicken dish brings warmth to your plate! The turnip is generous, and its sweet taste pairs well with the tarragon. A "royal" way to end the week!