Monday: Cream of Radish and Apple Soup
If you're all about soup during the fall months, you'll surely succumb to this autumnal delight. When pairing sweet apples with another fall ingredient, peppery radishes, you're left with this colourful, creamy and well-balanced soup.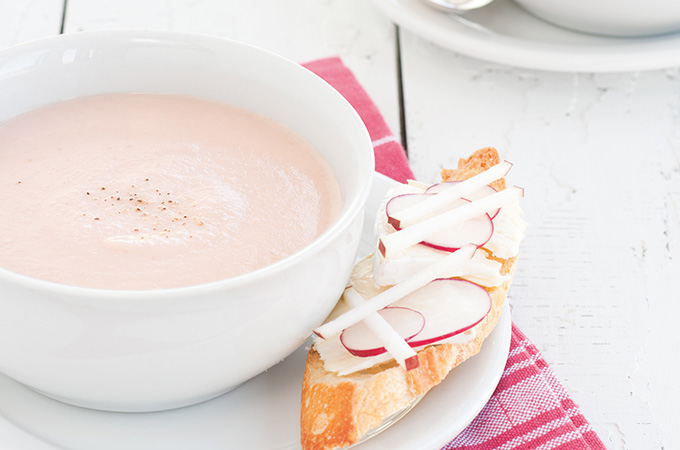 Tuesday: Sautéed Chicken Livers with Apple and Sherry
We know: Chicken livers aren't an ingredient that tends to garner raves from your loved ones. But that's because you probably weren't cooking them right! This recipe will change the way you view chicken livers, because they absolutely shine with sautéed apples and wilted spinach.
Wednesday: Open-Faced Tuna and Cottage Cheese Sandwiches
For days when cooking up a whole meal feels like a hassle, a hearty sandwich is usually the way to go. This patty melt-inspired version, with tuna topped with a gooey blend of cottage and mozzarella cheeses, will win over the entire family, particularly with the addition of tart green apple.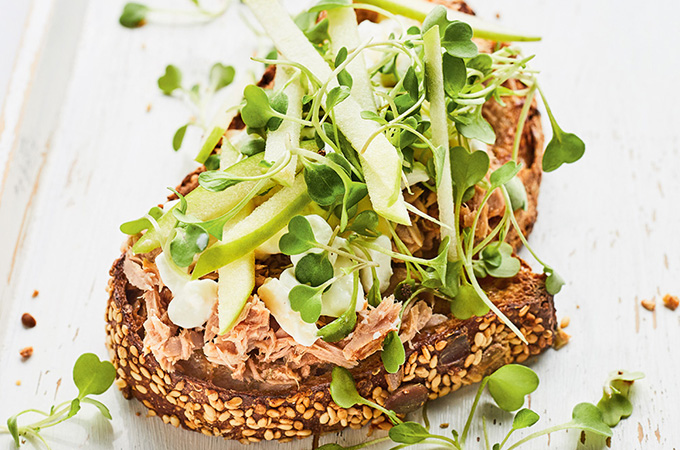 Thursday: Apple, Walnut and Bacon Green Salad
This popular salad makes for a great meal on its own, or as a side with your preferred protein. It is the perfect blend of flavours and textures, with Cortland apples, candied walnuts and smoky bacon giving this dish its crunch.
Friday: Pork and Apple Meatloaf
For fans of all things sweet and savoury, this recipe is for you! Grated McIntosh apples are mixed with the ground pork for a moist and tender meatloaf, and salty bacon brushed with apple jelly creates a mouthwatering topper. You'll never go back to regular meatloaf after this.
Dessert: Apple Crisp
What could be better in the fall than a warm helping of apple crisp at the end of a meal? With a combination of sweet and spicy apples that have a bit of bite, and a crunchy oat topping, this classic apple dessert will become a family favourite if it isn't already!