Ingredients
Crepes
Béchamel Sauce
Assembly
Preparation
Crepes
In a bowl, whisk together all of the ingredients, except for the butter, until smooth. Cover and let rest for 30 minutes.
Béchamel Sauce
Meanwhile, in a saucepan, sauté the onion in the butter for 2 minutes. Add the flour and cook for 1 minute, stirring constantly. Slowly whisk in the milk. Bring to a boil and simmer over low heat for 5 minutes. Mix in the ground nutmeg or clove, to taste. Season with salt and pepper. Set aside.

In a 10.5-inch (26.5-cm) non-stick skillet or crepe pan, melt the butter. For each crepe, pour about 1/2 cup (125 ml) of batter into the skillet. Cook on both sides until golden brown. Stack the crepes on a plate.

Preheat the oven to 350°F (180°C). Line a baking sheet with a silicone mat or parchment paper.
Assembly
Place one crepe on a work surface and cover with 2 slices of ham. Pour 1/4 cup (60 ml) of béchamel sauce over half of the crepe. Place 3 asparagus spears on top of the béchamel and sprinkle with ¼ cup (25 g) of cheese. Fold the crepe over the filling and place on the baking sheet. Assemble the remaining crepes in the same way.

Cover the baking sheet with aluminum foil and bake for 15 minutes. Serve immediately.
To help you with this recipe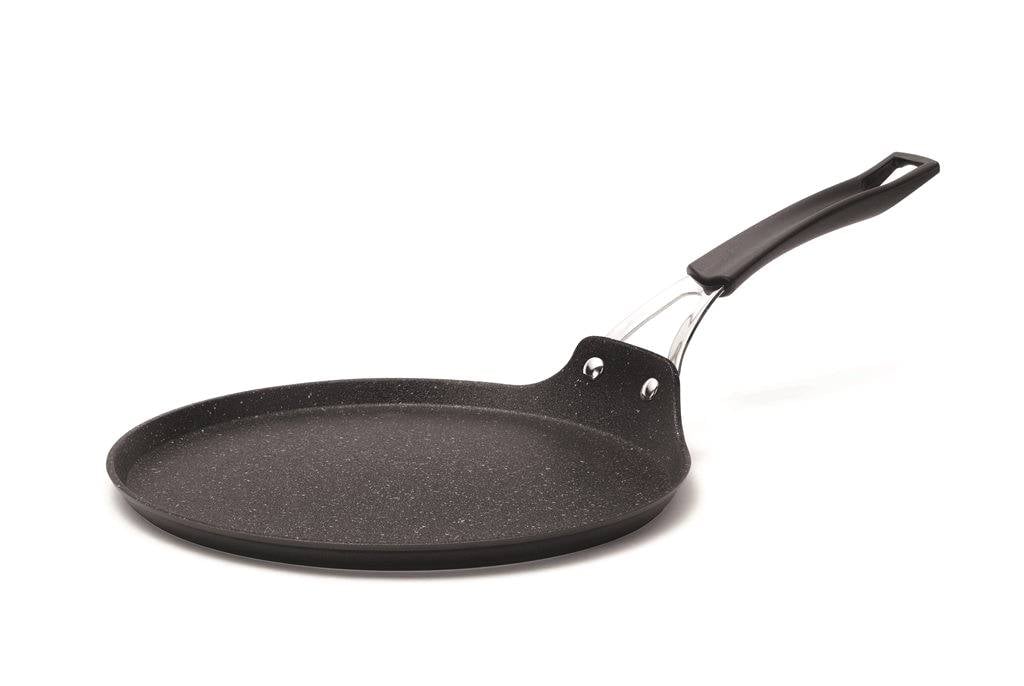 This robust forged aluminum crepe pan is made with The Rock technology, a high-tech process that makes the pan three times more resistant than regular Teflon finish. Because of its superior non-stick attributes, it is perfect for making crepes or French toast, or for frying eggs.
54.99 $
SHOP NOW