Ingredients
White Chocolate Mascarpone Cream
Crepes
Preparation
White Chocolate Mascarpone Cream
In a bowl placed over a pot of simmering water or in a microwave oven, melt the white chocolate with 1/2 cup (125 ml) of the cream. Remove from the heat. Add the remaining 1 1/2 cups (375 ml) of cream and the lemon zest. Stir well.

Cover and refrigerate for 3 hours or until the cream is cold.
Crepes
Meanwhile, in a bowl, combine the flour, sugar and salt. Whisk in the eggs, 1 cup (250 ml) of the milk and the vanilla until smooth. Gradually whisk in the remaining 1 1/4 cups (310 ml) of milk.

In an 8-inch (20 cm) non-stick skillet brushed with butter, over medium heat, cook the crepes, one at a time, using about 1/4 cup (60 ml) of batter per crepe. Cook until golden brown on each side. Place the crepes on a baking sheet lined with parchment paper as you go. You should have enough batter for about 16 crepes. Cover with plastic wrap and let cool.
Assembly
Beat the white chocolate mixture and the mascarpone with an electric mixer until stiff peaks form.

On a serving platter, place 1 crepe. Using a spatula, spread the crepe with 1/3 cup (75 ml) of the white chocolate mascarpone cream. Cover with another crepe and spread with 1/3 cup (75 ml) of the cream. Repeat the sequence with the remaining ingredients to create 12 to 14 layers of crepes. Refrigerate for 30 minutes before serving.

When ready to serve, dust the cake with icing sugar. Delicious served with raspberry coulis. The mille-crepe cake will keep for 1 day in the refrigerator.
Note
Using two skillets to prepare the crepes will cut down on your preparation time. The crepes can be made the day before assembling the cake.
To help you with this recipe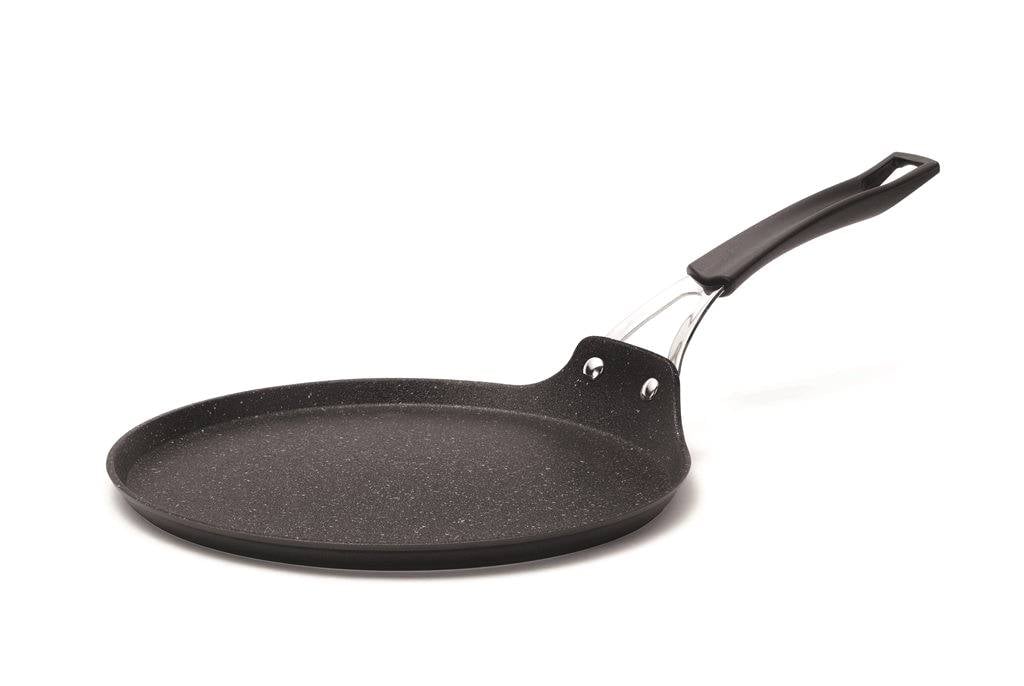 This robust forged aluminum crepe pan is made with The Rock technology, a high-tech process that makes the pan three times more resistant than regular Teflon finish. Because of its superior non-stick attributes, it is perfect for making crepes or French toast, or for frying eggs.
54.99 $
SHOP NOW