At Ricardo's, it isn't the holidays unless there's a turkey roast on the table. He makes one every year, without fail. It's the ideal solution when you want to eat turkey without spending an eternity in the kitchen. There's no need to debone the roast, and it cooks very quickly (try 90 minutes). Magic! Brining it the day before makes for one juicy bird.
Ingredients
Lemon Herb Butter
Turkey Roast
Preparation
Lemon Herb Butter
In a bowl, combine all the ingredients. Season lightly with salt and pepper. Cover and set aside.
Turkey Roast
In a large 6-litre pot, bring 2 cups (500 ml) of the water, the salt and brown sugar to a boil, stirring until the brown sugar dissolves. Remove from the heat. Add the peppercorns, bay leaves and the remaining water (10 cups / 2.5 litres). Let the brine cool.

Place the turkey roast into the brine. Weigh down with a plate to completely submerge the meat. Refrigerate for 12 hours or overnight.

Meanwhile, in a small bowl, combine the herbs, mustard and lemon zest.

Drain the turkey and pat dry with paper towels. Without untying the roast, stuff the herb mixture between the breasts. Season with pepper. Set aside.

With the rack in the middle position, preheat the oven to 350°F (180°C).

In a large ovenproof skillet over medium heat, brown the turkey on all sides in 3 tbsp (45 ml) of the lemon herb butter, basting often with the hot butter. Add the broth and bring to a boil. Bake for 1 hour and 30 minutes or until a meat thermometer inserted into the centre of the roast reads 165°F (74°C).

Remove from the oven and set the roast aside on a plate. Cover with aluminum foil and let rest for 10 minutes. Skim the cooking juices, if needed.

Meanwhile, combine the flour and the remaining lemon herb butter. Set the kneaded butter aside.

With a wooden spoon, scrape the bottom of the skillet. Strain the cooking juices into a saucepan. Bring to a boil and stir in the kneaded butter with a whisk. Let simmer gently about 2 minutes or until the gravy thickens. Adjust the seasoning.

Untie the roast. Cut into slices and serve with the gravy.

Delicious with Spinach and Mashed Potatoes Au Gratin or Braised Vegetables and Chorizo.
To help you with this recipe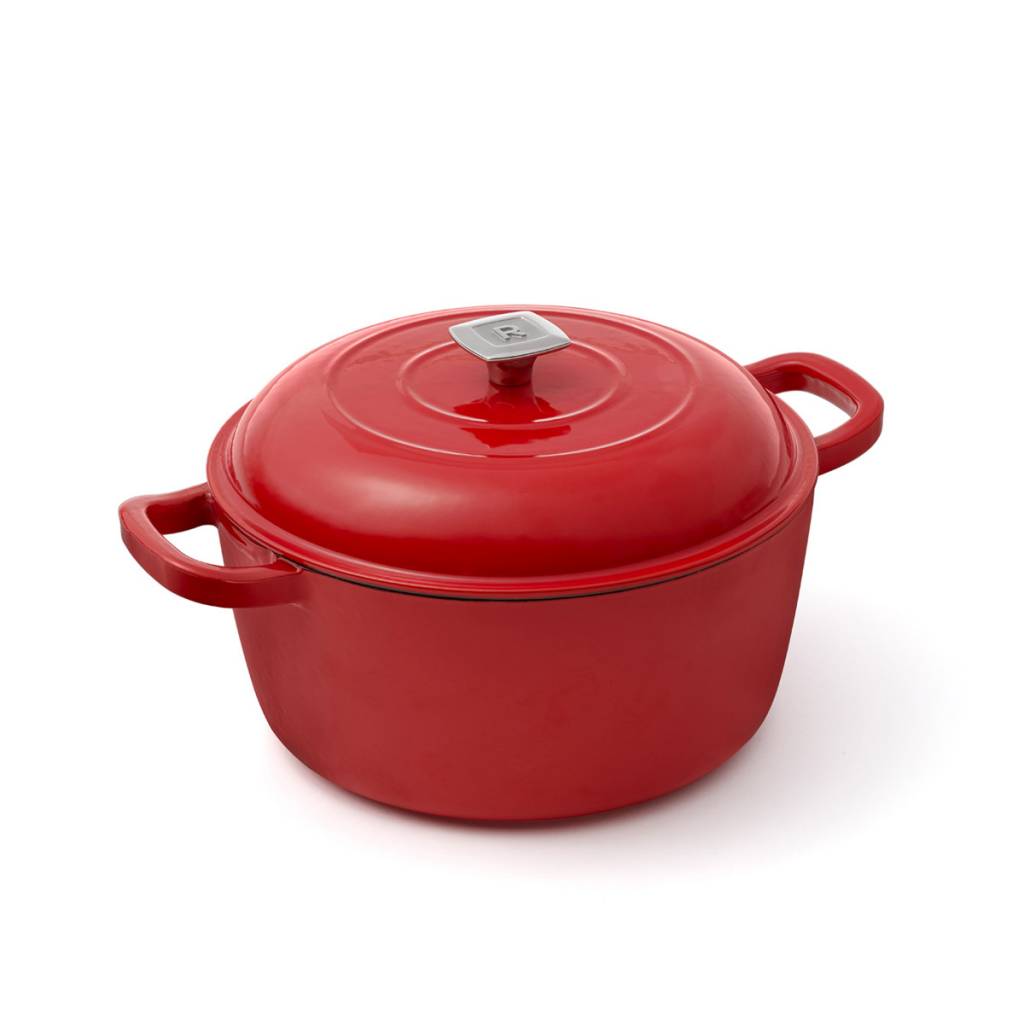 This RICARDO round cast-iron Dutch oven is great for making braised dishes or osso buco.
99.99 $
SHOP NOW