Preparation
Sweet Shortcrust Pastry
In a bowl, combine the flour and baking powder.

In another bowl, cream the butter and icing sugar with an electric mixer. Beat in the egg until smooth. With the mixer at low speed, or using a wooden spoon, stir in the dry ingredients.

Evenly press the dough over the bottom and up the sides of a 9-inch (23 cm) tart pan with removable bottom. Refrigerate for 30 minutes.

With the rack in the middle position, preheat the oven to 400°F (200°C).

Prick the tart shell with a fork. Line it with aluminum foil and fill the cavity with pie weights (dried chickpeas work well). Blind bake for 20 minutes. Remove the weights and the foil and continue baking for 5 minutes or until the crust is golden brown. Let cool completely.
Cinnamon Pastry Cream
In a saucepan off the heat, combine the sugar, cornstarch and cinnamon. Whisk in the egg and egg yolks, then the milk and cream. Bring to a boil over medium heat, whisking constantly and scraping the sides and bottom of the pan until the mixture has thickened. Remove from the heat. If needed, strain through a sieve to remove any lumps. Spoon the pastry cream into the cooled crust. Cover with plastic wrap directly on the surface of the cream. Refrigerate for 4 hours or until completely chilled.
Plums
In a saucepan, bring the water and sugar to a boil. Stir constantly until the sugar has dissolved. Remove from the heat.

Meanwhile, on a work surface, slice the plums on either side of the pit into thin discs.

Place the plum slices in the syrup and let macerate for 2 minutes. Remove the slices using a skimmer ladle and place them on a plate.

Arrange the plum slices on the flan, making sure to cover the entire surface.
To help you with this recipe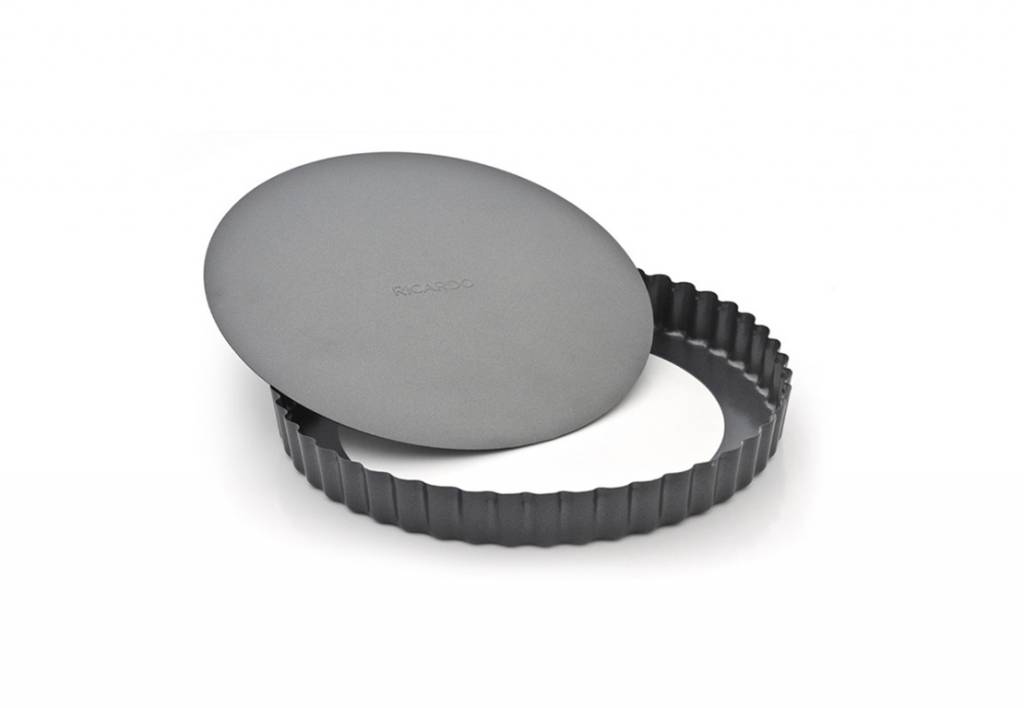 This round tart pan is perfect for baking both savoury and sweet tarts. The dark metal creates a crispy crust and the removable bottom allows for easy unmolding and cleaning.
16.99 $
SHOP NOW