Ingredients
Meat Sauce
Béchamel Sauce
Lasagna
Preparation
Meat Sauce
Using a mortar and pestle or spice grinder, blend the spices into a powder.

In a large pot over high heat, cook the pork and beef with the ground spices in the oil, breaking the meat up with a wooden spoon, until golden. Season with salt and pepper. Add the onions, celery and garlic. Cook over medium heat for another 5 minutes.

Add the tomatoes and oregano. Using a potato masher, purée the tomatoes. Bring to a boil. Simmer gently for 1 hour 30 minutes, stirring often, until the sauce has reduced by one-quarter. Adjust the seasoning.
Béchamel Sauce
Meanwhile, in a pot over medium heat, melt the butter. Add the flour and cook for 1 minute while whisking. Whisk in the milk. Bring to a boil. Simmer gently for 2 minutes or until thickened. Add the Parmesan. Season with salt and pepper. Cover and keep warm.
Lasagna
Meanwhile, in a large pot of salted boiling water, cook the pasta until very al dente. Drain. Coat the noodles in oil and spread out on a baking sheet. Cover with a damp dishcloth or plastic wrap.

With the rack in the middle position, preheat the oven to 375°F (190°C).
Assembly
Cover the bottom of a 13 x 9-inch (33 x 23 cm) baking dish with ½ cup (125 ml) of the hot meat sauce. Cover with a layer of noodles, 2 cups (500 ml) of the meat sauce and ⅔ cup (150 ml) of the béchamel. Sprinkle with ⅔ cup (65 g) of the grated cheese. Repeat layering in the remaining noodles, meat sauce and béchamel, finishing off with the remaining grated cheese (you can freeze the lasagna at this stage, without the cheese, if desired). Place the dish on a baking sheet.

Bake for 25 minutes.

Meanwhile, in a small bowl, combine the herbs. Sprinkle over the lasagna. Bake for another 10 minutes or until the cheese is golden. Let sit for 15 minutes before serving.
To help you with this recipe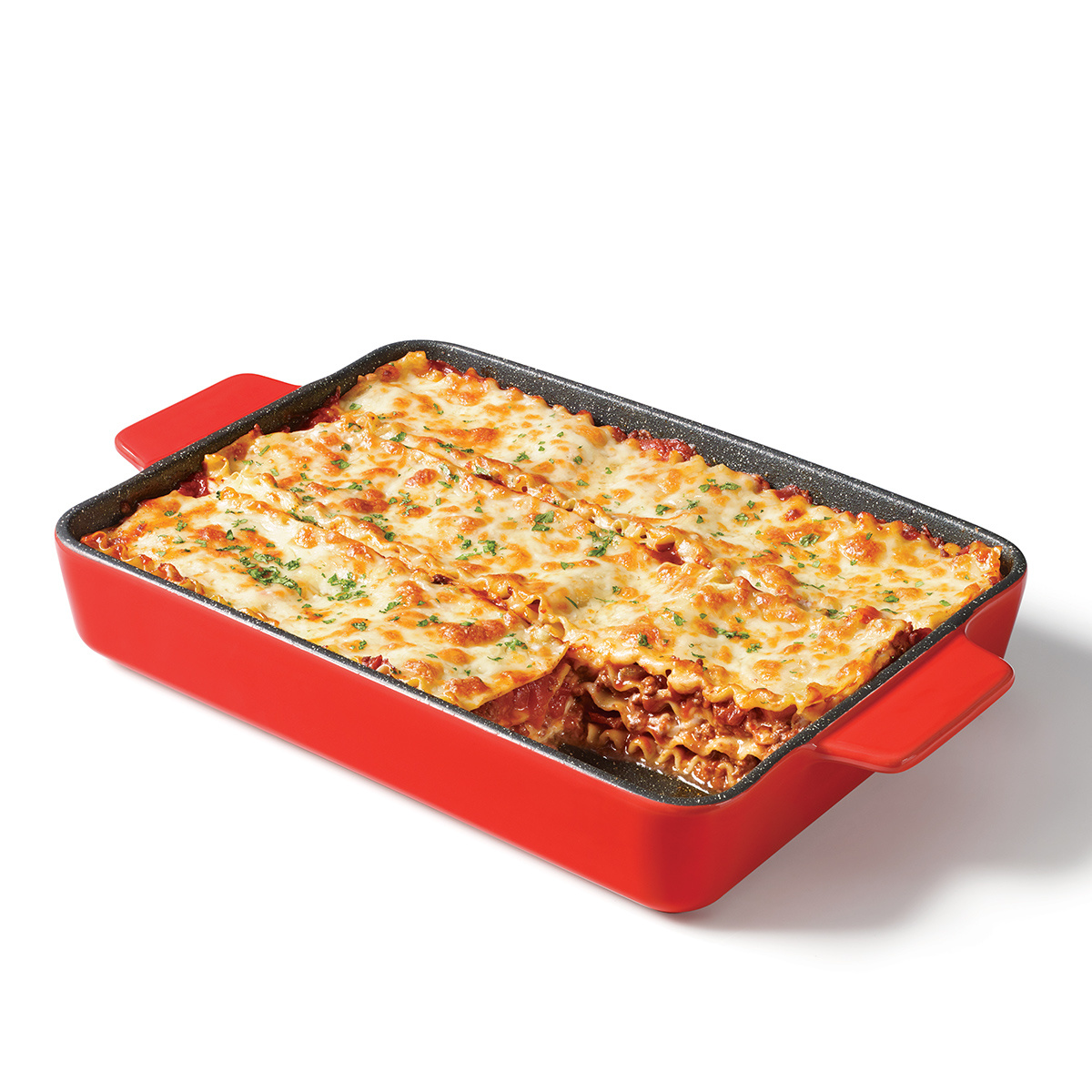 Perfect for desserts, casseroles, pasta dishes, vegetables, and more, the RICARDO Baking Dish is an essential piece for any kitchen. This well-crafted baking dish is made from premium ceramic to ensure even heat distribution and cooking. Whether you're making a quick meal for one or something bigger for the whole family, this baking dish is a great option.
39.99 $
SHOP NOW