Ingredients
Nougatine
Fondue
For dipping, your choice of
Preparation
Nougatine
Line a baking sheet with a silicone mat or parchment paper.

In a small pot, bring the water and sugar to a boil. Cook without stirring until an amber caramel forms. Remove from the heat. Immediately add the almonds and stir with a spatula to coat well in the caramel. Quickly transfer the mixture to the baking sheet and spread out in an even layer. Let cool completely at room temperature, about 30 minutes. Coarsely break into pieces. In a food processor, blend the nougatine into crumbs (see note). Set aside.
Fondue
Place both types of chocolate in a fondue pot.

In a small pot, bring the cream and milk to a boil. Pour the hot mixture over the chocolate. Let sit for 2 minutes without stirring. Whisk until smooth. Add ¼ cup (60 ml) of the nougatine crumbs.
To Serve
Turn on an electric fondue machine following the manufacturer's instructions or place a fondue pot over a low flame if using a traditional fondue maker.

Serve the fondue with the fruits, waffle cookies and more nougatine for sprinkling, if desired. Stir the fondue occasionally.
Note
You will have enough nougatine to make the fondue four or five times. You can also sprinkle it over ice cream or yogurt, or use to decorate a cake. The nougatine will keep for 1 month in an airtight container at room temperature. If it hardens, simply shake the container to loosen the crumbs.
Transfer any leftover fondue to an airtight container. It will keep for 2 weeks in the refrigerator. Reheat over low heat before serving.
To help you with this recipe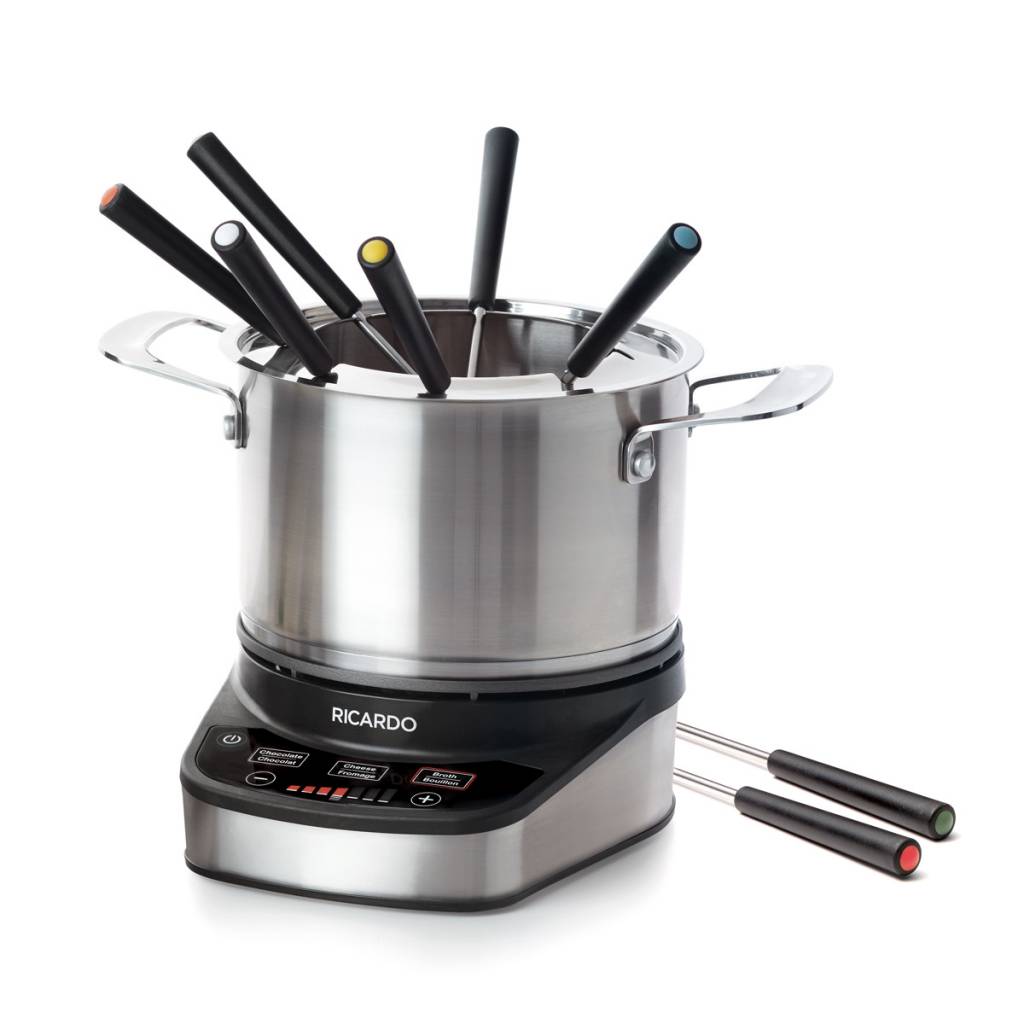 Thanks to pre-programmed settings, this RICARDO electric fondue set offers precise temperature control of broths, cheese fondues and chocolate fondues throughout the meal. The set includes eight differently coloured forks and an elegant, contemporary-styled chrome stand.
101.99 $
SHOP NOW