Ingredients
Confit Tomatoes
Burrata
Preparation
Confit Tomatoes
Preheat the grill, setting the burners to medium. Oil the grate.

In a bowl, combine all of the ingredients. Let marinate for 15 minutes. In a strainer, drain the tomatoes well. Discard the marinade.

Place a piece of parchment paper over a sheet of foil. Place the tomatoes at the centre of the parchment. Tightly seal into a packet. Place the packet directly on the grill and cook for 10 minutes or until the tomatoes start to shrivel. Place the packet on a plate and open the paper to let the tomatoes cool.
Burrata
Meanwhile, brush the peach wedges with 1 tbsp (15 ml) of the oil. Grill the peaches on both flesh-sides until heated through, about 5 minutes.

Place the burrata on a serving dish and cut in half. Add the tomatoes and peaches. Drizzle with the remaining oil and the honey. Garnish with basil leaves. Add a pinch of fleur de sel and pepper. Serve with toasted bread.
Note
To toast the bread, cover one side of the bread with olive oil and a sprinkling of salt. Grill the oiled side of the bread for 2 to 3 minutes over medium heat. Drizzle the non-grilled side of the bread with oil, flip the bread over with tongs, and continue grilling until nicely toasted.
To help you with this recipe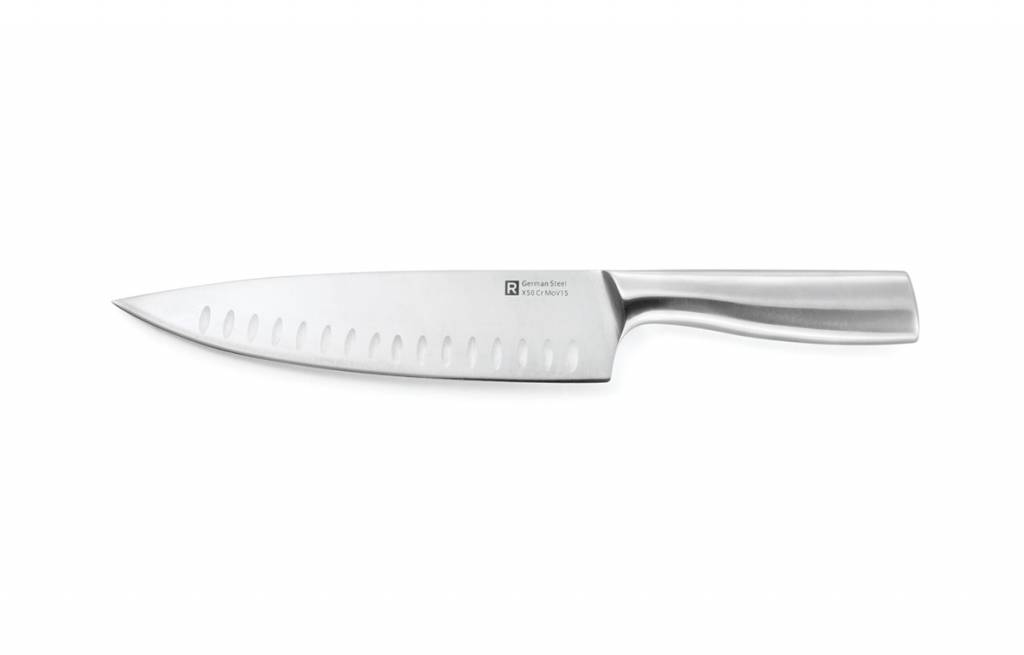 This chef's knife was designed by RICARDO's Test Kitchen staff. Its weight and ergonomic handle are perfectly balanced. The sharp blade provides perfect cuts, while its bevelled grooves ensure meat will not stick to it.
54.99 $
SHOP NOW