Picture a dessert with no need for plates, bowls, forks, or even spoons... Dreams do come true! These madeleines embody the season with a fun eggnog-infused kick, and could not be more forgiving: Because we hollow out the mini cakes for their creamy filling, the perfection of each one is far from the focus. What your guests won't believe is how you packed so much holiday cheer into such small, delicious bites.
Ingredients
Pastry Cream
Madeleines
Preparation
Pastry Cream
In a small pot off the heat, whisk the sugar with the cornstarch. Add the egg yolks and whisk until smooth. Whisk in the milk and vanilla. Bring to a boil over medium heat, whisking constantly and scraping the bottom and sides of the pot, until the mixture thickens. Let simmer for 1 minute. Remove from the heat. Pass through a sieve to remove any lumps, if necessary.

Pour the pastry cream into a bowl. Cover with plastic wrap directly on the surface. Let cool, then refrigerate for 2 hours or until completely chilled.

When ready to use the pastry cream, mix vigorously with a spatula until creamy and smooth. Transfer to a pastry bag fitted with a plain tip.
Madeleines
Meanwhile, in a bowl, combine the flour, baking powder, spices and salt.

In another bowl, beat the eggs and sugar with an electric mixer for about 10 minutes or until the mixture triples in volume and forms a ribbon when the beater is lifted. Add the melted butter, honey and molasses. Stir in the flour mixture.

Transfer the batter to an airtight container and refrigerate for 2 hours (see note).

With the rack in the middle position, preheat the oven to 400°F (200°C). Butter and flour a madeleine mould (see note).

Fill each cavity of the mould three-quarters full with batter. Bake in the oven for 8 minutes or until slightly golden. Unmould and let cool completely on a wire rack.

With a small spoon or melon baller, remove about 1/2 tsp of crumb from the centre of the rounded side of each madeleine. Fill the resulting hole with pastry cream and dust with nutmeg.
Note
The batter will keep for 3 to 4 days in the fridge.
To prevent the flour from sticking to the madeleines during baking, place the buttered and floured madeleine mould in the freezer for 30 minutes before filling with the batter.
To help you with this recipe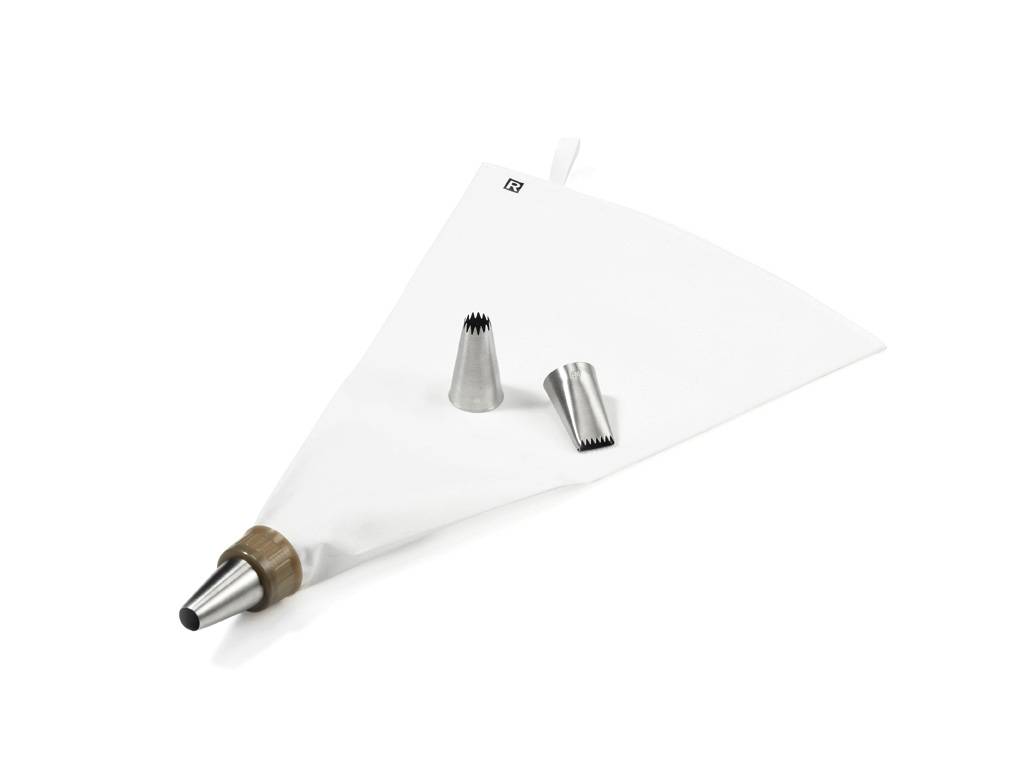 This pastry bag and set of three large tips is perfect for making cream puffs, macaroons and meringues. You can change tips while using the pastry bag, thanks to the practical adapter included in the set.
23.99 $
SHOP NOW