Snack to Prepare in Advance: Energy Bars with Almonds and Dark Chocolate
Plan a little half-hour before leaving to prepare these tasty bars. This option is better than commercial versions, which are often pricey, in addition to easily slipping into a pocket or banana bag. Dates, almonds, chocolate and chia seeds provide the fuel needed to conquer both the tent and the mountains! It's a perfect snack to enjoy on the trails.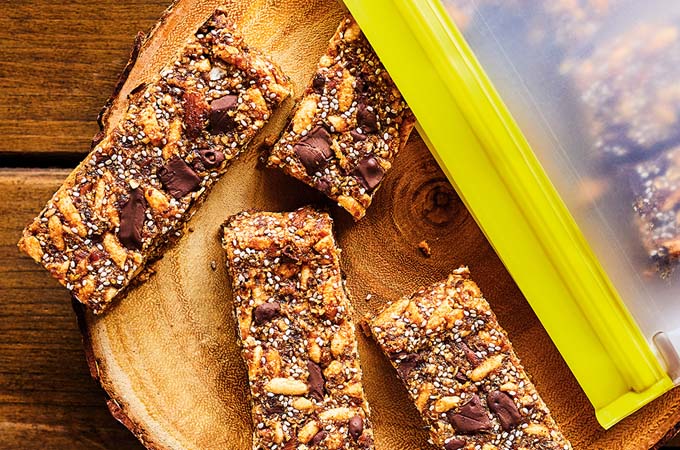 Tips for the gourmet camper
• Almond butter can be replaced by peanut butter.

 

• The bars can keep for a week in an airtight container at room temperature.

 

• Not sticky at all, they can be packed in bulk in a foldable bag or reusable wrapper.
Friday Night Dinner: Pasta with Garlic and Oil
On Friday evening, hungry after hitting the road and setting up camp, it's best to opt for the easy dinner solution. Blow away your fellow campers' taste buds with spaghetti aglio e olio, whose raw ingredients travel well and can be prepared on the spot in a snap. A simple, delicious dish that you will want to make again back at home!
Tips for the gourmet camper
• Long pasta can break in transport. No worries! It can be broken slightly before cooking to make it easier anyway!

 

• Parsley is a fresh herb that keeps well in a slightly damp paper towel wrapped in a reusable bag.

 

• Parmesan cheese keeps at room temperature, so it can be placed near a cold water bottle.
Saturday Morning Breakfast: Banana-Oatmeal Pancakes
A morning without pancakes is not a real weekend morning, even in the woods! A little extra incentive for this recipe? The ingredients do not need to be stored in a cooler. Unopened vegetable milk can remain at room temperature and the mixture does not contain eggs (we can thank the baking powder and the texture of the banana for that). It's a nice way to start the day, best enjoyed while listening to the birds chirping.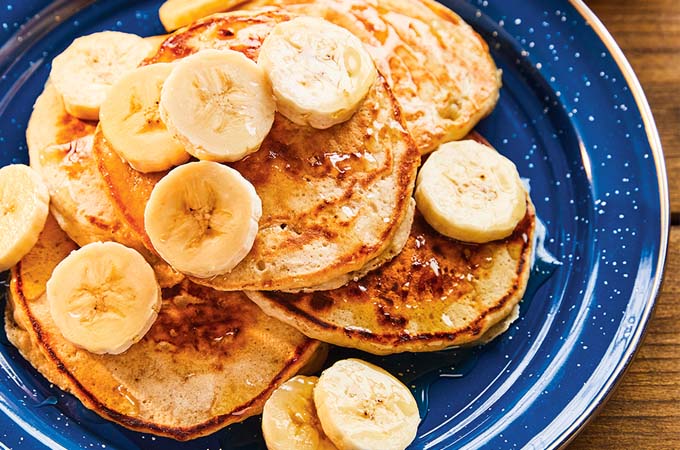 Pancakes, Waffles and Crepes
Tips for the gourmet camper
• Prepare the dry mixture at home. Once it's time to cook, just add the crushed banana and oat milk.

 

• Since the banana will be crushed in the recipe, don't worry about it darkening in your bag. Cut the second one into slices.

 

• Use the rest of the oat milk to add to your coffee.
Saturday Lunch: Sardine Toasts
If you plan to go on an adventure during the day, pack a lunch in your hiking bag. Gourmet campers will love these delicious baguette slices topped with grilled peppers, garlic and canned sardines. And rather than throwing your lemon away after squeezing it, keep it to make an after-dinner drink for the adults while the kids roast marshmallows. Simplify your trip, all the while still enjoying a tasty picnic!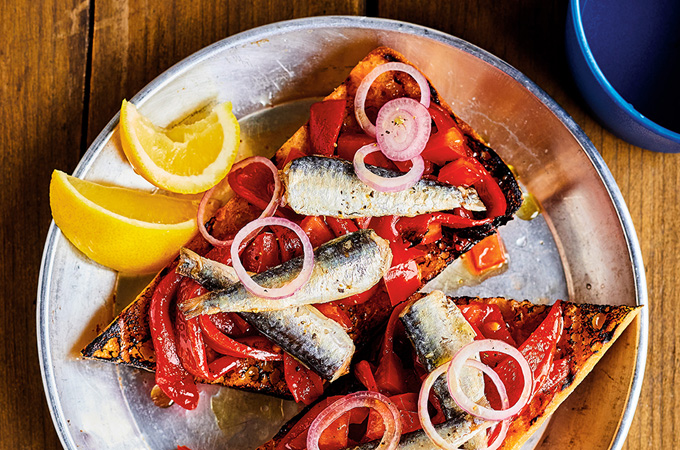 Tips for the gourmet camper
• Baguette bread is light, so it is easy to tie to the outside of your bag. It is best to eat it at the beginning of the trip.

 

• Do you have some time? Peppers cooked in embers are just as delicious as jarred ones.

 

• Do you have some time? Peppers cooked in embers are just as delicious as jarred ones.
Saturday Night Dinner: Chickpea and Cauliflower Curry
Fact: The outdoors increases the appetite, and what better meal to satisfy it than a delicious curry. Part of the meal can be prepared before leaving, while the rest is easily done on site in a small, compact and lightweight skillet. It's time to get out the bowls for this practical recipe that is ready in less than half an hour.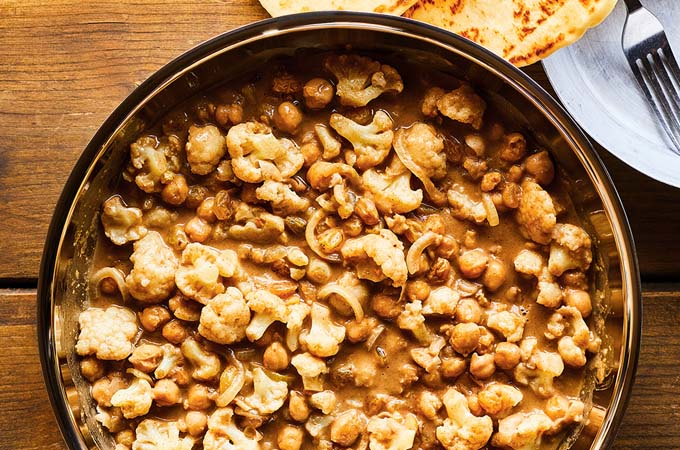 Tips for the gourmet camper
• Cutting and cleaning cauliflower can be done before leaving.

 

• Several elements of the recipe can be prepared in advance, starting with the spice mixture.

 

• There is no better food than legumes when camping. They keep well and warm up quickly!
Sunday Morning Breakfast: Quick Oatmeal
On the last morning of your camping trip, you'll be happy to have a nourishing, all-in-one breakfast when all there is to do is add hot water. Prepare the oatmeal base in advance, adding the desired topping options. You can even prepare a large amount in a Mason-type jar so it's always ready to pop into a resealable bag for camping. This is a homemade version of instant oatmeal!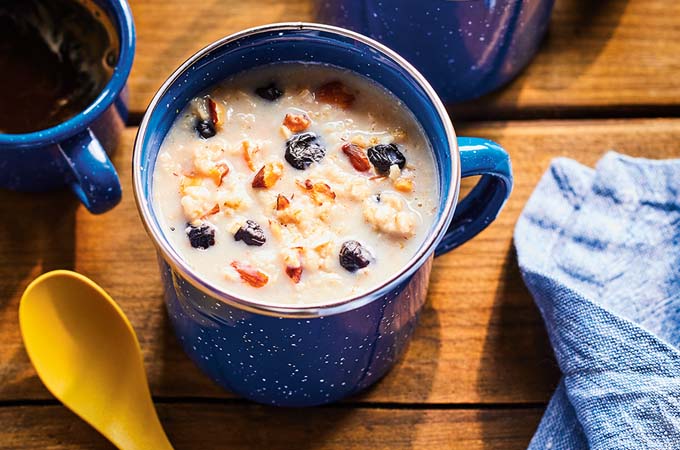 Tips for the gourmet camper
• The reusable bag is the ideal way to carry your oatmeal mixture. It can then be used for waste or leftovers.

 

• For an even more gourmet breakfast, add heated vegetable milk left over from the pancakes.

 

• The advantage of using dried fruit as a topping is that it takes up little space and does not get damaged.
Sunday Lunch: Ramen Soup with Beef Jerky and Mushrooms
As the temperature is often cooler in the woods, this miso-based soup will give you something to help you warm up. Take beef jerky and two packs of ramen noodles that you add to a quick broth made from rehydrated shiitake mushrooms. Ten minutes later, savour this comfort in a cup fireside before packing up camp.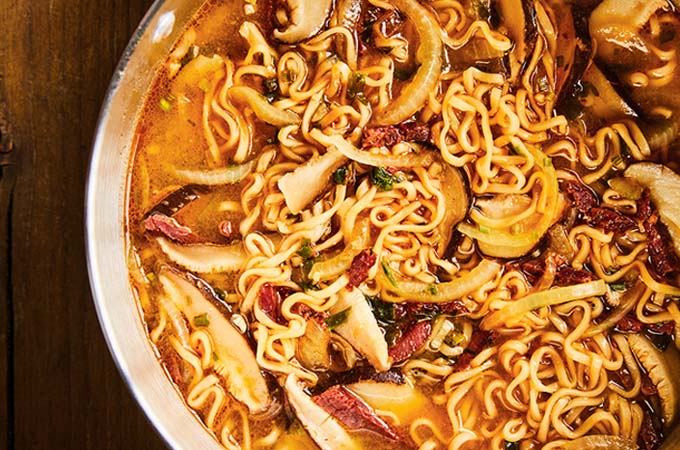 Tips for the gourmet camper
• Ramen is a perfect versatile pantry item: dried seaweed, sesame seeds and canned peas can easily be added.

 

• The texture of the jerky can be modified by moisture. Store in a bag and remove as much air as possible.

 

• Miso keeps at room temperature for 3 to 6 months, so there is no problem carrying it in your bag.
Ready to head into the woods? Here are some other tips for smart meal-planning: